Beach Weddings Reduce Carbon Footprints
by Melanie P.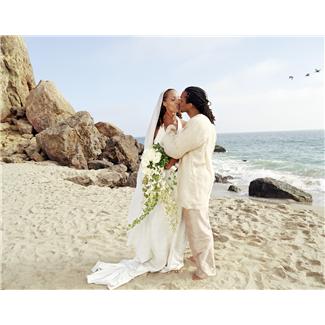 Get Married On The Beach
Beach weddings reduce carbon footprints for a number of reasons, and this is important to the modern couples of today who are interested in going greener in their lifestyle, and especially just starting out trying to stretch their finances.

Evening beach wedding themes are pretty popular these days because first of all, they are so romantic. Imagine this type of wedding setting. The sounds of the waves rolling in, maybe getting married in the open fresh-air with a sunset as your background or even under a starry sky! Doesn't get much more romantic than this.

A natural setting for the venue which provides automatic natural decor would be quite enough, and not require as much decoration as usually called for at a traditional wedding in a church setting.

Want to reduce your travelling carbon footprint even more? How about the ultimate in beach wedding honeymoons?

Pitch a tent, stay on the beach long afte the guests have left. Sounds like an ideal plan and possibly quite doable depending where you are.

Getting married doesn't mean that only formal wedding wear is required either, especially under these conditions. Loose shirts and a pair of shorts are just fine for the groom. A nice summer dress, (which the bride would probably choose) or t-shirt and shorts can be an option for the bride too if she likes. Top it off with flip-flops or light summery sandals.

Make sure the clothing chosen is light-weight yet fitted to the body. You don't want to worry about the heat or winds that might come up. That would be a distraction that isn't necessary or worrisome.


These types of outfits are very easy to choose, easy to transport, cheaper to buy if necessary, and overall much more comfortable. These clothes will be worn again no doubt, and not land in a closet forever, or eventually in a landfill.

If you want to wear the full traditional wedding dress and tux, go for it. You can change immediately afterwards if you want to!


Isn't the stress of planning a wedding enough as it is? It's much better to be comfortable and have more time on your hands to attend to other wedding chores.

Instead of renting a hall requiring all-evening formal lighting and much more official decoration, the ceremony could move directly to a beach wedding barbeque. There would be no more transportation costs involved for guests, as they could stay right where they are. The food could be much more casual in nature to fit the
barbecue and beach wedding theme, cheaper, and bound to be much more enjoyable with less waste.

The same rules for the use of eco-friendly dinnerware could apply, by making sure everything used is biodegradable, or able to be used again for other events.

Don't forget that a beach wedding theme doesn't only apply to a tropical location. Wherever there's a beach or shoreline no matter where you are, you can have a beach wedding anywhere.

It's clear that beach weddings reduce carbon footprints on a number of levels. Venue, wedding attire, transportation costs and food are just some of the ways.