Cut-Hydro-Costs
How To Practice Energy Efficiency
Cut-hydro-costs and reduce carbon footprints by implementing some small but routine saving-electricity procedures.
In order to reduce emissions and cut costs at the same time, we all need to be much more knowledgeable about energy efficiency.

FACT: North Americans are individually responsible for emitting over 20 tons of carbon dioxide per year.





That is alot, and it's more than double the amount of energy emitted by West Europeans.


As electricity is the biggest source of carbon emissions, the best place to start reducing that source is within our homes.
The home actually consists of many different departments to consider in terms of knowing where to spot the weak areas, and knowing how to fix them.
Speaking of weak areas, beware of the Electricity Vampires
that are forever present in the home, and find out how to deal with them.


Within the home, you need to look at the type of heating system you have in place.
What kind of windows do you have?
What kind of lighting do you use, inside and outside as well?
Is your home well insulated?
What about home electronics? Have you got televisions and dvd-players in every room?

(Don't feel bad, many of us do these days)
Do you have a pool or a hot-tub?
Could your kitchen and laundry facilities be improved upon?

(saving water saves electricity too)
Are you aware that landscaping around your home plays a part in all of this as well?
Lots of things to consider when it comes to energy bills, and they can be discussed in much more detail individually.


Is Your TV An Energy Saving Television?


In the meantime, there are ways to cut-hydro-costs that are fairly simple and largely commonsense ideas.
"Turn off the lights" was a saying drilled into my head by my Grandmother, who spent alot of time in our home when I was growing up.

I swear she could also wash dinner dishes for 5 people in an inch of barely hot water as well.
Anyway, I have become a bit of a stickler about the lights, even a bit overboard if that's possible. But, I simply like the atmosphere of low-lighting, so this is good.
Makes perfect sense. Why have lights on in places where no-one is in?
Cold feet and cold floors? Don't turn up the furnace.
Put down some area rugs. They insulate the floors well above unheated or partially heated areas like garages, crawl spaces and basements.
They also insulate against noise as well.
Try area rugs in your basement too for concrete floors. They help insulate and save energy. But only do it if you are sure there is no danger of water. Mold and insect problems can start if your carpets are damp.
Just generally cool? Put on a sweater, put on a pair of socks and slippers. Take advantage of throw-blankets you probably have laying around. No, you shouldn't have to freeze in your own home, but for someone who prefers to be barefoot, I have adapted quite well to woolen socks, instead of turning up the furnace.
Use a door-sock. This is a long tube of material full of sand or birdseed that fits snugly against the bottom of doors to stop drafts from any gaps. Keep the warm air in, and the cold air out.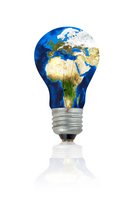 For sliding glass doors, be sure to keep the track clean. Dirt build-up can ruin the door seal and lets out the heat.
Let the sun cut-hydro-costs for you.
Take advantage of the sunshine. In the winter, leave your curtains open to allow the sun in to heat the rooms.
This allows the warm air to circulate and move around the windows so that moisture won't accumulate and freeze.
At night, close your curtains to reduce the heat from escaping.
Tip - Did you know that white or lighter shades actually reflect heat away from your home?
In the summer, close your drapes to keep the sun out and keep the house cool. You won't need to use your air-conditioning as much.


Understand how the Ontario Smart Meter can help you decrease energy bills. Use your devices when it is a "low-cost" time.


Take Advantage of The Sun. See How A Woodworker is Going Solar


Are you noticing spider-webs? Did you know that spiders build their webs in the direct line of air-flow in order to catch insects? This could indicate a leak somewhere that is letting in drafts.


Interested in do-it-yourself solar and wind power? Click Here!


These are just a few basic things you can implement around your house to not only cut-hydro-costs but to get into the overall mode of thinking in terms of the bigger picture. And, that is to reduce your carbon footprint by reducing carbon emissions as well.
Starting with the little things will naturally lead to looking for more and more ways to conserve.


On Demand Water Heaters can save energy over the conventional water tank.


The Retrofit Rebate Program may be available after the completion of an Audit.
If you want to cut-hydro-costs, the Home Audit may be a good way to get started. It can also lead you to some good advice on staying cooler indoors when it's so hot in the summer-time.



Leave Cut-Hydro-Costs, Return To Carbon-Footprint Home Page