An Eco-Friendly-Valentines-Day
Is Not At All Heartless
Green Valentines Day
Celebrate an eco-friendly-valentines-day that green-living-valentines would appreciate and understand. It means reducing your valentine-carbon-footprint as much as possible for Valentines Day, and there are a number of ways you can do this and not diminish your celebrations greatly at all.


Valentine's day traditions makes us think that February 14th is a day of expressions of love reserved for couples only.
The day is for everyone though to express their feelings of love, affection and fondness not just to family members, but to good friends as well really.
Why not save tremendously on paper and send out a free valentine card this year?
You have to sign up for this one, but it's well worth it, and only takes a second. Sending the cards generates donations to great organizations.


There are many free printable valentine cards online for the kids to pick from for handing out at school parties.
Avoid alot of waste instead of buying large packages of valentine cards that don't get used and are tossed. It's a great money saver and a good contribution towards an eco-friendly-valentines-day for your kids.



I sure remember these from school, don't you?

123 Print Cards

Apples 4 The Teacher


I tried both of these out; they are simple, basic and easy to do.


You could also make your own special homemade valentine gift in the way of a card if you are feeling brave and poetic.
There are many sincere and humorous valentine poems out there to pick from if you would rather choose from something already written. The ladies sure do love it, and this is probably one of the most romantic ideas for Valentine's Day there is, especially for a green-living-valentine.
Visit funny valentine poems for some ideas.


Want to celebrate rather simply and quietly at home?
Prepare a nice home-cooked meal instead of going out. This means no travelling of course, and that cuts down alot on your valentine-carbon-footprint.
Try to use organic foods for your main meal, as well an organic wine, and/or fair-trade coffee.
Give some fair-trade chocolates as a gift afterwards or simply share them for dessert.
Add a little intimacy, and keep the lights off. Low burning soy or beeswax candles will provide all the light (or as little light) you need.


Choose to make a donation together.
Instead of buying each-other gifts, you could choose as a couple to make a donation to an endangered wildlife organization, or to any environmental cause you respect and admire for the good works they do.
Show your love for your planet and all it contains!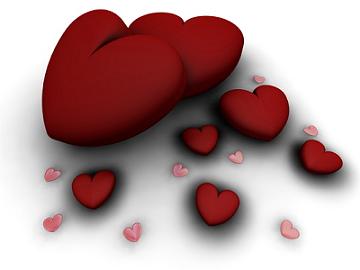 Granted, it is however very very difficult for couples to not want to buy some token of affection for each-other.
Jewelry is extremely popular at this time of year.
You can opt for handmade eco-friendly pieces by artisans trying to support their families on the products they so tirelessly produce. You are bound to find some truly beautiful and interesting items, and they will most certainly be an extremely unique eco-friendly-valentines-day gift for sure.
Natural perfumes and colognes that don't contain toxic ingredients are also options not just for women, but make good valentine's day gifts for men too.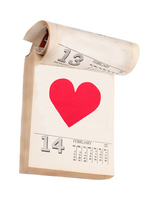 Planning on popping the big question today? Be sure to check out conflict free diamonds for the greenest of engagement rings.


What will always be very high priority over everything on the list of favorite valentine presents to give and receive though, are flowers.

But, why not consider a houseplant instead? It will last so much longer and clean the air in the home at the same time. Definately, this is the gift that keeps on giving, just like a shrub or a bush that someone can plant when they are able.
Still, there are people who are not that green-thumbed and would really prefer flowers of some kind that don't require any care.
Perhaps a small bouquet of silk flowers would be an option, and they will last forever. They certainly don't require any maintenance, other than a light dusting occasionally.
Pretty hard to get around the expectation of real flowers of some kind, and on Valentine's Day, the most popular flower to give is absolutely and undoubtedly, "the rose".


Difficult for the fellas to avoid this one, but choosing the organically grown ones is a responsibly made choice when purchasing Valentine Day Roses .


More and more environmentally conscious florists are providing them to customers for an eco-friendly-valentines-day.
They have been grown chemical and pesticide-free, which are healthier and most likely, much longer lasting.
Roses can be expensive, so you can go for a smaller bouquet of these as well.


Did you know that the colors of roses all have their own distinct meaning?
Decide which color best suits the special someone in your life before you purchase them, by reading up on the colors and traditional Meanings of Roses .
Not sure what kind of rose to choose? Here are a huge variety of Red Roses to look at. Beautiful!


However you choose to celebrate an eco-friendly-valentines-day, you are sure to reduce your valentine-carbon-footprint, and even a little bit is better than no reduction at all.



Leave Eco-Friendly-Valentines-Day,
Return To Carbon-Footprint Defined Home Page