Mothers-Day-Carbon-Footprint
Eco-Moms Day
Lower your Mothers-Day-Carbon-Footprint significantly, and give your eco-mom an eco-friendly-mothers-day she will enjoy.
Is your mother frugal in her ways? Is she leaning towards green living but not quite sure how what to do?
If that's the case, a simple gift that will last for a long time, or give back in some way won't be the wrong gift choice to give at all. There are a number of unique mothers day gifts to choose from in this area.
When Is Mothers Day?

Well, it should be every day, but officially it is celebrated at different times around the world.
March, April and May are the general dates, and the second Sunday in the month of May is the most common one used to give tribute and honor our moms in some form or another to show our appreciation for all that they do.
No matter when it is celebrated, there are a group of items that are given the most overall during the Mother's Day holiday.
"According to surveys taken and shopping trends from year to year, cards and flowers are a constant."
Mothers Day baskets are always a hit. Most Moms love a bouquet of flowers and a simple Mothers Day greeting card. Who wouldn't?
Better yet though, they like flowers to plant in their garden or a houseplant for indoors - perfect and so meaningful for the green-moms.
My mother-in-law always gets hanging flower baskets as a Mother's Day gift idea and she loves them. If the weather is nice, and it usually is, this is a perfect choice for a present and so relevant to the beginning of Spring as well.
It's been apparent through these surveys, that moms also love -
Jewelry, an evening out for dinner, being pampered, handmade gifts of any kind, and quiet time, or a stress-free day of some type.
A "free day" means alot to many busy moms today.
Lower your Mothers-Day-Carbon-Footprint by doing her chores for her. Let her relax and do something she never gets enough time for.
Here are a number of specific eco-friendly-mothers-day ideas that represent the concept of carbon footprint reduction in their uses, meaning and simplicity, and are sure to please your Mom on this special occasion.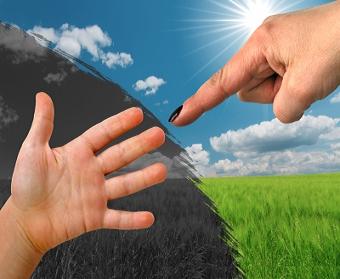 Give your Mom the gift of a special message, a gift from your heart to hers. It's the thought that counts, and if you aren't good at poetry, choose something from Mothers Day Poems that says it just right for you. This is a great way to reduce your mothers-day-carbon-footprint.

Other suggestions?
Solar lights to light up her garden, pathway or deck
Solar fountain for the garden
Handcrafted bird feeder
Hummingbird feeder
Indoor herb garden she can start herself
Handcrafted Fair Trade jewelry - Mothers Day rings unique to her
A magazine subscription on one of her specific interests
Eco-bath, spa and organic beauty products she can pamper herself with; load up a Mothers Day basket full of goodies
Energy saving kitchen devices and gadgets
Handmade purses and accessories - There are excellent fashion accessories like wallets, and handbags out there Mom is sure to love! Ask at any beauty counter.
Organic comfy cozy sleepwear for lounging
Organic flower bouquet
Free Mothers Day Greeting Cards are available from a number of printable Mothers Day card sources.
Is your Mom computer savvy? Send her an e-certificate that allows her to shop online
A houseplant that will freshen the air and brighten a corner
Fair trade/organic chocolates - "Sweets for the sweet"
A painting, A handmade framed photo of the family
A Mothers-Day-Carbon-Footprint can be lowered greatly by reducing, reusing and recycling.
Organic teas/coffees
A book or magazine on one of her favorite subjects
Lunch or dinner at an organic restaurant; or, cook it yourself perhaps?
Mothers Day Brunch at home - invite her girlfriends
A perennial plant that will return yearly and multiply
Homemade CD's of her favorite music
Have a movie night at home; let her put her feet up; provide her favorite snacks; cater to her every whim!



Reduce your mothers-day-carbon-footprint, and plant some trees in her name in your community. Or, give a charitable donation in her name. If your mom prefers to give instead of receiving something for herself, this will certainly make her proud.


Mothers Day is such an important occasion. Ever wondered about the Origin of Mothers Day?

Hey Dads, help the little ones with a special token of appreciation for Mom and all that she does. Kids love projects and Mothers Day crafts for children


Leave Mothers-Day-Carbon-Footprint
Return To Carbon Footprint Home Page