Homemade-Cleaning-Supplies
How To Make Easy Household Cleaners
Keep these homemade-cleaning-supplies on your grocery list and whip up your own homemade-cleaning-recipes.
These non-toxic-cleaning concoctions have become quite popular, but some don't really feel something is truly clean unless there are chemicals involved in the process. My husband is one of these people. If it isn't comet, it isn't any good.
Actually, chemicals leave a residue that the dirt attaches itself to and surfaces get dirtier even quicker.




The good news is that many of these supplies are probably in your kitchen cupboard or refrigerator. If you are willing to take the time to make some non-toxic-cleaning recipes for use around the home, it's quite easy.
They are much cheaper than buying the typical store-bought products and as mentioned will require a bit of your time to mix up in batches. But once mixed, you will have them on hand and you are good to go.



Keep These Homemade-Cleaning-Supplies
On Hand




BAKING SODA
Non-toxic, scours well, natural deodorizer
Discover the Magic of Baking Soda Cleaning Recipes


BORAX
Deodorizes, inhibits mold growth

LEMON
Fights natural bacteria, an acidic cleanser

LEMON JUICE
A nice deodorizer
PEPSIN
Breaks down protein, and can be purchased at
Health food stores. To remove chocolate from a
rug or upholstered furniture, grind the pepsin
and mix with water to make a paste. Rub in the
paste and let sit a few hours. Wipe away.

CASTILE SOAP
Liquid, flakes or bar form, great for plumbing fixtures

TEA TREE OIL
Deodorizes, disinfects, cuts mold and mildew

OLIVE OIL
For preserving

CINNAMON
For scent

VEGETABLE GLYCERIN
For preserving

ESSENTIAL OILS
Optional but nice for scent - orange, peppermint, rosemary
HAIRSPRAY
Removes ink from ceramic tile, clothes
and laminate counters

HYDROGEN PEROXIDE
Natural Antiseptic, works well in bathrooms

WHITE VINEGAR
Wipes soap scum, mildew, grease, waxy build-ups
Vinegar is an absolute must for your list of
homemade-cleaning-supplies.



The Power of Cleaning With Vinegar Recipes


Tea Tree Oil Makes A Great Addition to Your Supplies



Here is a sample of just what you can do with some of these supplies.

Cleaning The Microwave
2 slices of lemon or 1 tblsp. lemon juice
in a cup of water. Microwave on high 30 seconds, wipe down with
a dry rag.

You can do this without the lemon, if you prefer.

Or, leave out the lemon, and substitute vanilla or almond extract.
Liquid Dish Soap

1/4 cup soap flakes grated from a bar.
Dissolve this item in 2 cups hot water.

Add 1/4 cup vegetable glycerin
1/2 tsp. lemon or tea-tree oil
Let cool. Store in a squeeze container.
Furniture Polish
1/4 cup olive oil
1/4 cup lemon juice

Shake gently, store in a glass spray bottle.
Store in a cool dark place.
Toilet Bowl Cleaner
2/3 cup borax
1/3 cup lemon juice

Let sit for 1 hour in bowl and flush.

Multi-purpose Bath Cleaner

1 1/2 pints water
1/2 cup rubbing alcohol
1 tsp. household ammonia
1 tsp. liquid soap
1 tsp. lemon juice

Spray and wipe with a damp cloth.


Mold is a serious issue. Find out how to Kill Black Mold .
Have you ever thought about what the plain white table salt in your cupboard can do? Visit Salt Healing Properties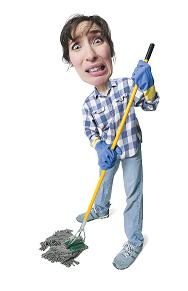 Find Out More About Hydrogen-Peroxide Uses



Organic Dishwashing Liquid will protect your hands from skin irritants.


Consider switching to an Organic Laundry Detergent or combination of basic kitchen ingredients to prolong the life of your wardrobe, be gentle on your skin, and protect the environment as well.



Tips For Storage of Your Homemade-Cleaning-Recipes


Keep spray bottles, glass jars and pails handy for keeping your pastes and sprays in that you will make up. An empty windex bottle works best as vinegar degrades ordinary plastic eventually.
Have toothbrushes handy for scrubbing faucets and grout.
Clean with washable and reusable rags rather than paper towel.
A good supply of sponges.
An old metal cheese grater for grating bars of soap.
Cut your SOS pads in half; gets double the use, and sharpens your scissors at the same time!



Visit the Carpet Wizzard for all of your specific carpet cleaning needs.



General Green Cleaning Tips
Use a damp cloth to collect toxic household dust. It won't be let back into the air.
Keep any conventional cleaners that you still may have, out of the children's rooms.
Chlorine is vaporized by hot water and released into your air. Use chlorine-free dishwater products.
Keep microfibre cloths in your homemade-cleaning-supplies kit.


You are really helping to reduce your carbon footprint by using natural homemade-cleaning-supplies mainly because there will be no additional chemicals released into the air.

Your air at home will be much easier to breathe and less harmful to your family, your pets, and you.
The quality of what you are breathing indoors especially after dusting is important too.

Considering an air-cleaning system?
Air Purifier Reviews offers researched information and expert advise on different brands of Air Purifiers.


You may also want to consider the power of toothpaste. Did you know it removes odors as well? Check out the many toothpaste-uses there are for cleaning and removing odors. Another must for your homemade-cleaning-supplies kit!


Aspirin Uses are multiple, and you may not be aware of them when it comes to putting them to use in the home. Check out the power of aspirin.


Nothing beats the power of steam. Complete your household cleaning schedule and be sure to visit Steam Mop Reviews



Household Cleaning Recipes And Tips
What works well for you when tackling your cleaning chores around the house, and that's "green" in nature? Share your know-how.


What Other Visitors Have Said
Click below to see contributions from other visitors to this page...

Red Wine Stain Removal
From Clothing And Rugs

Red wine stain removal from clothing and rugs can be a tough situation to deal with, but there are some everyday non-toxic stain removers most of us have …
Baking Soda Beauty Tips Not rated yet
There are baking soda beauty tips to learn here too, because baking soda doesn't have to be used just for cleaning the house. A few spoonfulls of baking …
Leave Homemade-Cleaning-Supplies
Return To Carbon Footprint Defined Home Page