Wedding-Carbon-Footprint
How To Green Up Your Wedding Day
Minimizing your wedding-carbon-footprint using green-wedding-guide plans suited to eco-conscious brides and grooms, is becoming more and more popular. This type of environmentally-friendly wedding is appealing to many more modern couples as these ideas can save money, save time, and protect the environment all at once.
A Green Wedding
Is A Very Personal Choice
The hype, the excitement, all of the bells and whistles associated with a wedding day, isn't this what so many girls dream of?
With so many couples having such a strong concern for our environment, many couples are asking themselves what seems right for them?
Shouldn't they consider cutting down on their wedding-carbon-footprint and opting for an eco-friendly-wedding instead?
The fact is, billions of dollars are spent on millions of wedding celebrations every year.
Stop for a moment though, and think in terms of the tons of expense and waste that results.
Mountains of garbage from paper products like invitations, wedding favors, food and flowers to name a few are the result.
What about the expense of the wedding attire? Where will the bride get her dress, at what cost, and what will be done with it later?
When have any of us ever worn a bridesmaid dress twice?
The green bride of today wants to balance what is trendy with concerns for the environment as well, by mixing green living ideas with her own green wedding plans, and coming up with a lovely result.
It would be a good idea to tell your family and friends about these concerns. They may be inspired to contribute some great ideas towards the cause.
How lavish you want everything to be, will be reflected to some degree in the expenditures just like with the planning of any kind of wedding. It's about the level of green you want it to be.
Eco-Friendly wedding planners and vendors out there realize this, and are becoming more plentiful to the eco-conscious brides and grooms.
They know they need to provide knowledge and services in the form of a green-wedding-guide to accommodate this increasing demand for wedding-carbon-footprint reduction.
They also acknowledge there are a variety of choices that can increase costs, but as they say, it's based on how big and how green you want to be.


Best tip? Think "simplicity" according to the Wedding Planners if you want to reduce your wedding-carbon-footprint.
Your Eco-Friendly-Wedding Venue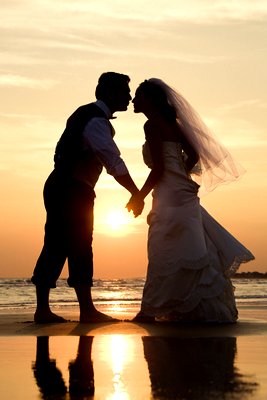 A natural and scenic daytime backdrop can provide natural lighting, natural seating. Not many decorations may be necessary, the natural surroundings will take care of that. This can reduce the wedding-carbon-footprint of high cost energy and overall waste and expense of extra lighting.
Consider getting married during the daytime hours on a beach, in a park, in someone's beautiful backyard, or in a botanical garden.
Have your ceremony somewhere that holds a special meaning to one or both of you.
You can also check that the place you decide on will benefit from the fee you pay (if you have to) towards an environmental cause they are involved in.
By the way, ask your guests not to throw confetti. It's not good for birds, so throw rice or birdseed instead.


Use your scenic backdrop to influence your wedding theme. Scenic beauty is the best theme wedding decoration. Check out "Bachelorette Wedding Ideas" to get ideas for Wedding Themes .



Guest List and Wedding Invitations
Keep it simple and trim your list to only the closest family members and personal friends. The smaller the group, the smaller your wedding-carbon-footprint will be in terms of everything you have to provide.
There are options available on how to invite people to your wedding. You can opt for making your own invitations or take advantage of other eco-friendly ways of announcing your special day, and all done according to Wedding Invitation Etiquette in an eco-friendly way.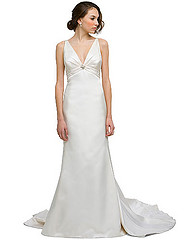 Wedding Attire
The eco-friendly dress does exist, and takes into huge consideration the fabrics used to make it, and also how and where to get your dress.
From modest, to used, to eco-chic, there is an Organic Wedding Dress for you. Consider organic fiber and hemp-silk wedding wear.
Before you buy "brand new" seriously consider Used Wedding Dresses first and reduce waste in the landfills. You may also be helping to grant someone a last wish.

You should consider options for the Eco-Friendly Bridesmaid as well. Save yourself and your bridesmaids money.
You could also find some good information on Vintage Style Wedding Dresses at My Wedding Reception Planning.com
Tip - Forget the salons. Is there a hairdresser in the family? Do each-other's hair and makeup as best you can.
Wedding Ring Shopping
This is something that is frequently overlooked, and shouldn't be in terms of an eco-friendly-wedding. If you choose brand new rings, be sure they are Conflict Free Diamonds before you purchase. Check it out, if you aren't sure about what this means.
You can consider other greener ways of choosing when shopping for an engagement ring, wedding bands and other wedding jewelry too.


Diamond Rings Info provides free information on diamond and diamond rings; how to shop for diamond rings, diamond earrings and loose diamonds, and how to get the best bargains & value for money.
Environmentally Friendly
Wedding Reception
Reduce your wedding-carbon-footprint by how you choose to manage "simplicity" at your wedding reception.
Lots of options to consider here in the way of caterers, organics, green wedding decor, and flowers.
And don't forget the bar at your Green Wedding Reception .
Ideas to save money and the environment with make your own wedding decorations galore.
Would you like to make your own centerpieces ? You can with some easy visual instruction. Wedding Flowers and Reception Ideas has lots to offer for your consideration on your special day.



Travel and Wedding Guest Accommodations
Of course the smaller the wedding, the less arrangements you have to contend with.
Green Hotel accommodations make perfect sense. Check with the Green Hotels Association for locations in your area. Make sure they are involved in as many day to day practices that takes eco-friendliness into consideration in how they run things.
Encourage guests to travel together as much as possible when coming from out of town and returning home.
Arrange for hybrid vehicle rental or a shuttle for example to get everyone at once to and from the ceremony location, reception, and back to their accommodations.
Don't be afraid to advertise that you and your partner are concerned about the environment, and are consciously making an effort to cut down on your wedding-carbon-footprint.
Green Wedding Gifts For You
And Your Wedding Party
Ask for eco-friendly gifts that reflects your green living lifestyle as a couple.
Ask that it be simple, something that you will really use. Ask that it arrive with little or no wrapping. Cut down on your wedding-carbon-footprint in this respect like you would with anything having to do with excess wrapping and packaging at any other time.
You can also request a gift in your name to a charity or to any eco-friendly cause like a carbon fund if you wish.
When giving gifts to your wedding party, keep it simple for them as well, and something they can use.
There are a number of options, like a book, a ticket to an event, grooming and beauty products like soaps and bath salts, organic coffees, teas to name a few. You can make it nature-related, and give a plant if you like.


Wedding Photography Tips
Make sure the business you hire runs their own business as greenly as possible, in that they produce acid and chlorine-free albums. They may in fact already donate to causes to offset their own emissions as well.
Digital photography produces much clearer and sharper images that can be uploaded and shared online by making some great online albums. A computer program and most brands of photo paper can produce beautiful photos for you to have forever.
Digital photography of course eliminates the need for film.
You can also rely on capable friends and family to take photos and a video of your day for you.
Plan Your Wedding Music Yourselves
Burn your own CD's or ask a friend to do it. Is there someone you know in the family dying to show off their dee-jaying skills? If you think they will do a good job, this is definately an option.



Where and How To Honeymoon
You may decide you just want to stay around home, and this is a huge wedding-carbon-footprint saver. But, if you are like most newlyweds, you will want to treat yourself to a trip somewhere. And, you deserve it after your big day.
Choose a place and accommodations that are working on reducing their carbon footprints just as much as you are. There are many Bed and Breakfasts, and resorts out there doing exactly that.
If you are going to be a tourist, be aware of the impact you will have in that capacity on the community you are going to. For more tips on how to be the perfect eco-tourist, visit Eco-Friendly Vacation .



My wedding years ago was about as simplistic as it gets. Not much of a wedding-carbon-footprint to speak of. It turned out to be very eco-friendly, and I didn't even realize it until now.
Check out my Frugal Wedding Tips . Sometimes pure simplicity makes for the best memories.


Leave Wedding-Carbon-Footprint
Return To Carbon Footprint Defined Home Page