Your Eco-Friendly-Backyard Delights
Green Family Vacation Spot
Create an eco-friendly-backyard that will serve the family as the perfect relaxing environmentally-friendly-retreat.
Creating a safe and natural backyard that serves as a sanctuary geared to family relaxation makes spending free time at home an absolute pleasure.
You will have a natural and inviting space to escape to, entertain friends, and it should be much easier to maintain overall.
Healthy soil produces healthy plants, as does ample sunlight. In consideration of the soil, the use of natural and organic products in place of pesticides and fertilizers are much safer for food plants among other things.
If you have kids, pets or both who will spend considerable time playing in the yard, it's important for their well-being in regard to not being exposed to chemicals from run-off.
A kid-friendly and animal-friendly yard just makes sense if family time out here is important.


Don't put in plants that require lots of watering.
You want to save water if you can, and your time. And don't start plants that can go thirsty for long periods of time beside plants that do require lots to drink. You will end up damaging the plant that doesn't need it. Keep these two type plants separated.
By the same token, if you have plants that require a high amount of moisture, this is the ideal opportunity to combine your thirsty plants with your water feature such as around a pond or a fountain.
These plants will thrive and enjoy the moisture from the water. If they are growing well, they will certainly add to the beauty and elegance of your eco-friendly-backyard.

What is an eco-friendly-backyard without a garden of some kind? These excellent vegetable gardening tips will help you get started with some basics.


If you don't have much shade, a pergola or an archway of some kind is a great idea.
You can have a living roof with flowering vines covering the top. It provides shade, can add some fragrance depending on what's growing, and it's just a good place to sit, relax, and keep cool at the same time.


Adapt To What You Have, Not What You Wish You Had
If your property is very shady, plant a shade garden with plants that don't like the sunlight.
Hostas are great for shade gardens, as they thrive without much sun, and they come in such a variety of colors. This is a reality I had to face. The dirt I had was not the best no matter what I did with it, and this one section of my backyard was too shaded. Hostas were the answer.
Why it took me so long to figure this out, I will never know. I finally had to admit that what I wanted there was just not going to happen. And now, this space is quite pretty compared to what it used to be, and it also takes care of itself quite well. This is important too.
Lighten up your workload, and have more time to actually enjoy your yard. Give in to it, and don't waste anymore time trying to make it something it isn't meant to be.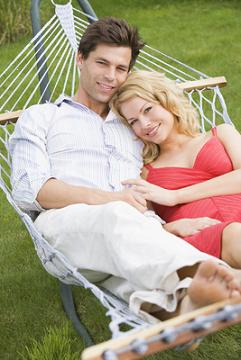 The tender roots of your lawn will gain strength with minimal watering and cutting. Don't overdo and fuss. Take time for "you."
Try to use recycled mulch from forest products for garden beds, walk-ways or paths, and play areas. It's effective and attractive to the look of your back-yard.

With the proper soil, plants, and lawncare tips in place, your eco-friendly-backyard has a good start to being an inviting space for a bit of wildlife.
Now consider putting in some thick bushes and bird houses that would make a safe haven for birds or small animals to call home.
A small woodpile can provide an excellent home for chipmunks.
A pond, a water fountain or any kind of a water feature will certainly attract some wildlife.
Birds love birdbaths. If you feel creative, you can use up broken glass and make some lovely mosaic pieces like birdbaths, or large leaves from plants can even be used to make stepping stones instead of throwing them all in the composter.
These types of crafts are a lovely addition to your eco-friendly-backyard.
A weeping Mulberry tree is pretty, sturdy and provides a great umbrella type shelter and hiding place for birds. Red berries appear at the end of the summer, and all types of birds love these.
I have one of these trees. If I can grow one, anyone can!

If you like the gentle sounds of a bell add in a small wind-chime.
Personally I find a wind-chime very calming and soothing in an eco-friendly-backyard.
Bird feeders will attract easily depending on what type of seed you put out and where you live. You may not just attract the birds either. The squirrels will come and try to get in as well, and so may larger birds who are just too big for the feeders. It can be rather comical and entertaining to watch at times as well as a nuisance, so you will have to take steps to keep out the animals you don't want.

Birds love to eat! Build it, and they will come to an Eco Friendly Feeder made out of fruits and vegetables. Take composting one step further.

Have you ever considered a butterfly garden? Talk about adding some beauty and magic to a backyard. Check out how to attract them and keep them coming around to entertain you. Visit the world of the Butterfly Lovers .

Hummingbirds are almost magical to watch once they find your hummingbird feeders. And once they discover it, they will rely on them quite a bit.
Don't have any hummingbirds? You're missing out. Hummingbirds are wonderful for the eco-system besides just being a pure pleasure to watch. Certain bushes will attract butterflies, while the mulberry tree that I have provides a ton of berries that the birds love in late summer.
Suet balls and a bit of seed will certainly continue to attract birds over the winter months. Throw your bread crusts out for them as well. If they don't find them, the squirrels will.


It's a lovely sight to find a deer in your backyard, but they can do alot of damage.
Bears are common where I live. Well, it's not exactly a big story around here when someone has had one in their backyard as I have, and directly across the streetin a neighbours' driveway. And as amazing as they are to watch, there is that danger factor with feeders in your eco-friendly-backyard and the large animals aren't really what you want to attract.
I have cats and a dog, so as much as I like to see a Bear, I'm not really happy about him coming around. Do be careful about where you store garbage as well.



And Now, What About You?
A few inviting and relaxing pieces of furniture for your own comfort and enjoyment should be added. You could add patio furniture, or a hammock, a natural stone or wooden bench would even be nice. You can get outdoor furniture made out of recycled or sustainable materials.
A tire swing for the kids too perhaps?
Tropical Siesta Mayan Mexican Hammocks and Ecuadorian Blankets- Tropical Siesta specializes in unique handmade products - Mayan Mexican Hammocks and the softest Alpaca Blanket at an unbeatable price and quality.
All you need now is a little bit of soft solar lighting and you are all set.

Your eco-friendly-backyard should be complete in a simple way that provides quiet and calm, beauty, and a peek at the wildlife as they enjoy the environmentally-friendly-backyard too.
Leave Eco-Friendly-Backyard
Return To Carbon-Footprint Home Page