Holiday-Debt-Reduction Can Prevent
Post-Holiday Money Worries
Prioritizing holiday-debt-reduction tips and methods will help avoid getting caught up in impulsive and excess spending especially over the festive season. Plan for budget-wise-festivities and eliminate-christmas-debt as much as possible. Save yourself money wherever possible!
Higher percentages of consumers are cutting back from over-spending on themselves, their families and gift-giving in general. It's definately a sign of the times.
Many couples at Christmas for example, tend to spend on one big ticket item that is needed for the house and the family as a whole.
Planning stricter budgets to stay within during any special occasion can be difficult. It's not easy to avoid getting caught up financially in the excitement of the season or special event.
Christmas can be a very stressful time of year though for those who are unfortunately going through rough times. They feel pressures to buy for those who CAN and DO buy for them. Christmas should never ever feel like this.

But, if there is at least one good reason to practice some restraint and holiday-debt-reduction methods during the holiday season, it's to help reduce our carbon footprint as well.
There are different alternatives for spending on big items, and some people are forever overloaded with things they don't need or want anyway.
Simplicity, or gifts at least reflective of those who choose to live an eco-friendly lifestyle is often most appreciated as opposed to big and extravagant forms of gift-giving.


For any special occasion which calls for gift-giving, basic holiday-debt-reduction tips can apply to ease the strain of spending and eliminate-christmas-debt especially, which tends to hit people the hardest.
"Christmas, birthdays and other events come faithfully every year. They don't take a holiday."
Don't forget about and plan for the "hidden costs" that will crop up in the upcoming year that you know about.
The extra church donation at Easter or Christmas
Gift for the Teacher
Birthday parties your child will probably be invited to
School events requiring donations or admission fees
A baby gift for a friend or family member
The Christmas office party gift exchange
A family wedding or Anniversary Gift
A Graduation Gift
These are just a few basic events that we find we need to plan for, but most often really don't until the day gets here. Holiday-debt-reduction takes into account every possible scenario that can arise.
Choose names at Christmas, instead of buying for everyone.
This can be a relief to others, though you may not realize it. Suggest it, and you may find other people are just fine with it as they are looking for ways for eliminating-christmas-debt themselves as well.
Decide who you need to buy for, the occasion, and how much you will spend.
Create a budget.
Write a shopping list when you go out; this helps to avoid impulsive buying, and will actually free-up-cash at the end of the day.
Try to put away a little each month to be prepared.
Shop for next years' events through-out the year as you see good sales. Take advantage of Boxing Day specials to ease the strain of holiday-debt-reduction for next year.
Take advantage of a lay-away-program if offered.


Keep in mind to not give in to the expectations of others.
Do only what YOUR budget allows, not theirs.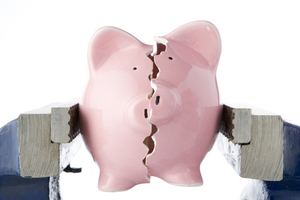 Don't face January with a real Credit Card Dilemma .
Paying cash only is always the best choice for your purchases, but if you can't, use a low-limit, low-interest card. No holiday-debt-reduction planning at all is usually what causes problems here.


You may be interested in following up on the Black Friday Frenzy shopping days or Cyber Monday Promotions . Ever heard of these?


Some people avoid these days and question the significance, but as a consumer, that choice is up to you if you are trying to save money.
One thing about on-line shopping, is that you can do it from the comfort of your own home, at your own leisure at any time of the day or night. You certainly don't have to get dressed to go out (that's the best part) and battle the traffic, the weather or the crowds. Certainly saves on gas and wear and tear on your vehicle, which in turn, reduces your carbon footprint. Probably helps to curb impulsive buying, I would think.
Keep an eye out for good discount coupons. If you choose to buy online, look for bigger discounts and shop around for competetive prices.
Look for items offering free shipping, vouchers that are offered along with the purchase, buy 1 get 1 free deals, and other attractive offers.


Buy your greeting cards in the off-season, make them yourself, or send them free online.
Cut your list down to those who are closest to you.
One of the biggest reasons for holiday-debt-reduction planning? Trying to resist the urge to purchase too many high-end electronics and toys for our kids as gifts!
(Love them dearly, but when is enough, enough?)
First of all, these items are replaced so quickly because of newer trends that seem to appear daily.
Children tend to lose interest quickly anyway, in favor of the "hottest" next item. We went through that, and computer games and systems were never cheap.
Something that could be a keepsake and treasured forever for a family to look back on fondly would be much more meaningful in the long run.
"The true spirit of giving at Christmas or on any occasion isn't measured in dollars and cents."
There really is alot of truth to the saying "it's the thought that counts."
There are good lessons to be learned for kids on the true meaning of giving and receiving.
You can save a little, give of yourself, and perform a good deed at the same time. Try giving the gift of "time."
Plan a special outing, or just set aside some one-on-one time for special family members you don't see often, or for an elderly neighbour.
Perform a service for them, like household chores or errands they need done but can't do it for themselves.


How talented are you? Do you know how to knit, crochet, paint? Are you crafty, or a gourmet cook?
Go with the personal touch, and give something homemade that makes someone think especially and fondly of you. Some homemade jam, or a knitted item can mean so much more to someone, and go a long way towards your holiday-debt-reduction plan.
The personal touch is especially meaningful when you take your own family photo of your children or have a friend snap a family photo for a christmas card or newsletter. This saves alot of money instead of having it done at a professional photography studio.
Dollar stores and craft shops are wonderful places for inexpensive picture frames that can be hand-painted, decoupaged with decorative wrapping paper or any variety of simple craft items.


Don't forget to take your re-usable shopping bags with you when you do go out shopping.
And, speaking of re-usable, ALWAYS KEEP the bags and bows and salvagable wrapping and tissues from any gifts you have received.
It's great for savings on having to buy new bags, ribbons, wrapping paper, tissue, etc. all the time. This can get very costly. I can't remember the last time I had to buy a number of them, because I continually keep them from year to year. This is probably one of the best holiday-debt-reduction tips there are.
Pretty cards can be cut into beautiful little gift tags, so don't throw out any type of greeting cards that have been given to you. Cut tags out of them, and write on the backs.
You can also wrap your present according to the nature of the gift.
If you are buying something for a bathroom, wrap the item in a new bath towel. If it is something for the kitchen, wrap your items in a large new t-towel and tie. An assortment of small gardening items like gloves, seeds, etc. are lovely in an attractive flower pot.
Conventional wrapping takes forever to decompose in the landfills, so why not wrap with a reuseable fabric?
It just takes a little imagination, and looks that much more nicely presented too.


Throwing a dinner party? Go with what you have presently in your own home in regard to dishes, cutlery, glassware etc. Borrow it if you have to, or I have always said, one set of white dishes can be accessorized with different colors of napkins or tablecloths according to the event. This cuts down significantly on cost.
Go potluck and don't be afraid to ask guests to bring a little something. Usually people are delighted to do that. If they are good friends you are inviting, and hopefully that would be the case, they shouldn't mind.
When we celebrate Thanksgiving for example, someone brings the buns, someone else brings the pie, someone brings a cheese-tray etc. Everyone contributes, and the "hostess" doesn't bear the entire cost of the whole thing. Quite a number of people eat a fabulous meal, and it doesn't cost any one person a fortune to do it. These budget-wise-festivities are the perfect holiday-debt-reduction solution for everyone.


There really is no end to the number of ideas one can come up with for holiday-debt-reduction all year-round. One thing is for sure according to statistics, more and more people every year are making a point of cutting back in all departments and sticking to it. Overall, it's not a bad habit to get into.


Storewide Clearance Sales offer an excellent opportunity to snap up after-Christmas deals for next year.


Return To Christmas Carbon Footprint

Leave Holiday-Debt-Reduction
Return To Carbon Footprint Defined Home Page