Halloween-Carbon-Footprint
Halloween The Environmentally Friendly Way
Shrinking our halloween-carbon-footprint doesn't mean we have to give up the magic, fun or excitement associated with Halloween. We just need to celebrate in a much more eco-friendlier way using some frugal-halloween-tips.


Did you know that at this time of year, Halloween can have a huge negative environmental impact?
Other holidays around this same time of year play a big part as well, and I'm sure this doesn't come as any real big surprise, but the halloween-carbon-footprint is growing at quite a rate. You can turn it into a green halloween, and an eco-friendly-halloween instead.


The paper litter alone the next day from Halloween night is the first thing so noticeable, not to mention the pumpkins splattered all over.
Smashed pumpkins are a very familiar sight the day after Halloween and it's really such an incredible waste.
Not only can you make so many delicious recipes like pies, and muffins from your pumpkins, but if you can remember to conserve pumpkin seeds you can cook up some interesting and tasty snacks from those as well.
Pumpkin Puree Uses aren't just for baking; check these out too after you have scraped the pulp from your pumpkins.


When choosing a pumpkin for decorating, think beyond the actual Halloween night, and how you can reduce your halloween-carbon-footprint by getting as much use as you can from it.


Back to the litter. What about the days leading up to Halloween?
Many of us buy boxes and boxes of things like chips and cheesies to hand out to trick-or-treaters. It's always been easy and convenient, also relatively cheap.
The boxes do come in handy and are recyclable, but not everyone takes this into consideration. It's just alot of packaging and garbage for most people to figure out what to do with the next day.
There are other options out there in terms of what to give out to the kids if you are concerned about nutrition and non-candy-halloween-treats .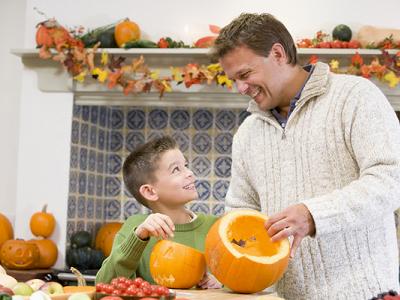 Halloween isn't just for kids either. It is a huge industry that is supported by the interest from adults. The percentage of adults who spend at least fifty dollars on a costume plus accessories for themselves is growing every year.
The prices for costumes can vary from super-cheap to super-expensive, and of course an adult costume is going to be more expensive simply because of the additional material used.
If you can avoid buying Halloween costumes at all, that is a bonus for you.
Try to do your best to make do with what you have at home.
There are tips available to make your eco-friendly-halloween even more fun when you put together your own costume instead of buying it.
Homemade Costume Ideas will come to you, if you stop and consider your resources.


Make your own Homemade Autumn Wreath frugally and simply. The kids get a nature lesson, and a few extra materials can make it a Halloween wreath as well.

Remember to send your child out with reusable large cloth bags or a pillowcase instead of the plastic bags or plastic pumpkins.
Don't get me wrong, plastic pumpkin pails or baskets are good, but even they wind up in the garbage frequently just because of broken handles. Cloth bags are easy to handle, they hold more, and are reusable all year-round.
Make this the most eco-friendly-halloween bag as possible.



Get a good workout. Where I live, we get close to 300 trick-or-treaters easily. The cars up and down our street are unbelievable. Smaller children should be supervised of course, and need to be driven around.
Consider car-pooling with another parent, and park in one spot. Walk from there if possible as much as you can to reduce your halloween-carbon-footprint emissions.
This would definately be much safer for all concerned as well.
Be sure your walk-way is well lit. If you can use solar lighting up to the entrance, that would be great. Compact fluorescent bulbs at your main door entrance come in different colors too, so they can serve as a decorative piece as well.
Get a cup of coffee, and listen to "Halloween Essentials", an interesting conversation about some great ideas for Halloween. It's about 30 minutes, so you may want to pop back later.



Hosting A Halloween Party?
Mail an E-card as an invitation
Ask your guests to carpool
Use linens from home or a plastic tablecloth that is reusable
from year to year; a white table-cloth would be nice with autumn colored accents and compostable decorations
Use your own flatware and dishes
Use Solar lighting if outdoors

Tell guests they have to dress up using their own imaginations and items from home - no store-bought costumes allowed
Halloween is such a great time that everyone looks forward to.
Just a few frugal-halloween-tips can reduce our halloween-carbon-footprint greatly and not take away noticeably at all from the fun of it.



Here are some more articles that may be of interest to you.

Lots of Fun in Homemade Costumes
Recycling Halloween Party Decorations
Frugal Baby Costume
Preserve Baby's First Halloween Costume
EcoFriendly Last Minute Halloween Costume


Leave Halloween-Carbon-Footprint , Return To Carbon Footprint Defined Home Page