Teaching-Helpful-Kids To Be
Eco-Friendly Kids
When teaching-helpful-kids the responsibilities of the home green awareness comes naturally through some very hands-on children's-learning-activities. They learn how to reduce their carbon footprints as they grow too.
It's one thing to hand out chores, but teaching the children well about why those chores are so important, is part of it all too, especially when it comes to reducing kids' carbon footprints.



The kids growing up today will inherit a multitude of challenges to deal with in regard to the state of our planet.
On the other hand, the young people of today have a better sense of awareness than previous generations ever have.
They are in fact quite passionate about the pollution of our environment, and the resulting global warming effects.
According to a number of surveys, this is quite high on their list of concerns more than we know.



Really young children like to help. They like to mimic the older people.
If you have a child who likes to help, take advantage of it for their sakes.
The best place to start to train a young child towards becoming a caring and concerned individual about their surroundings, is at home as as soon as possible.
Teaching-methods make a huge difference. How to teach children involves alot of "hands on" and learning experience by actual doing. Doesn't that apply even to us as adults?
Young children look to their families as role models.
Good habits and values are picked up on and carried for life.
Caring about the planet is certainly a worthy cause to become passionate about. And even at a young age, kids' carbon footprints exist too.
Simple chores and projects delegated within the home are a good way to begin the process of teaching-helpful-kids to learn the reasoning.



Explain the Need for and Benefits of Recycling
Teach them a few of the basic recycling symbols.
Make a game of it. Work out fun ways to teach. Children love games, and since they also like to help out, let them be in charge of some part of it.
You can also challenge them to be the watchful eye over who doesn't follow the recycling rules of the home.
Allow them to actively rinse out or help put out the recyclables for the garbage man on pick-up day.
Visit a Recycling Station. Take them to the landfill on one of your trips, and explain where our garbage goes.

Teaching-Helpful-Kids to Work A Garden.
Let your kids help you. Better yet, give them a space of their very own in your garden or even give them a huge flower-pot to allow them to grow something.
This can instruct them about the composting process and how it is so similar to the recycling process.

The New White House Garden may peak their interest to start their own.

Teaching-Helpful-Kids to Donate
When it's time to gather up clothing, toys, or books no longer being used, let them participate in the donation process of these items.
Explain how there are various organizations, charities and churches who may not have the funds to buy their own.
Participate in a Garage Sale
Have a garage sale for those unused items and let your children take an active part in whatever reasonable way they can. If you like to attend garage sales yourself,take your child with you. Give them a small amount of money to spend. Show them that buying something used is ok and a smart thing to do.


Re-Use Household Items
Ask your children for their opinions in regard to making use of good items before getting rid of them. For example you can make use of old jars or baskets to hold crayons, paints, and other craft items. Old towels or clothing can be used as rags.
Let them help or watch you try to repair a broken item to make it into something useful again instead of just throwing it out.


Teaching-Helpful-Kids to Be Mindful of Energy and Water
Have them get into the habit of turning out the lights or the television when no longer needed.
Teach them to NOT run the water full-blast, and turn it off when it's not being used. Reducing water carbon footprints are just as important.
Walk Instead of Drive
If you and your child can easily walk to the corner-store or anywhere for that matter instead of driving the car, do it.
Explain why fewer cars on the road are actually "good for the air." Likewise, explain when you are the driver carpooling your children and their friends. You may not get the entire technical meaning of it all completely across, but it's a good start for them to absorb the notion that this way is the best way.



Reducing Material Items Instead of purchasing a book or a toy, take them to the library or the toy-lending library to borrow it. When you do buy books, try and make them some "reference" books that can be learned from for years to come.
Teaching-Helpful-Kids To Participate
Take part in national events like Earth Day, or a local clean-up day in your park or your neighbourhood. Or, you can initiate one yourself as a family.
Ask your child to help you put clothes on the clothesline, and explain why you are doing it. Taking advantage of free solar energy is a good lesson to teach.
Teach Safety Tips and Awareness To Avoid Tragedies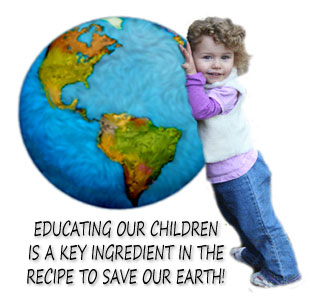 So what can these few basic household activities teach young children?
They teach a sense of achievement in creating something from the earth. With that hopefully comes the desire to protect all forms of nature in whatever way they can.
Teaches how to make-do and conserve.
Teaches creativity and problem-solving.
Teaches how to be resourceful, and make use of what you already have.
They learn not to waste, but conserve.
They learn that second-hand is quite ok and acceptable.
Teaches how to be thrifty.
Teaches how to actively contribute and do your part in Society for the good of everyone, not just for yourself.



Get more facts on Green Natural Parenting from our friends at Easy Green Living.

Instill an interest or awareness of the marvels of science and technology and get those creative juices flowing.
Did you know that "Lego" is much more than a toy or hobby?
It is an educational tool, one that can teach robotics, design, reinforce creativity and more. Visit Burns Brick Country where a Father and two sons and their love of lego is shared with the world.

The children will be the problem-solvers, the thinkers and Environmentalists of the future.
Teaching-helpful-kids becomes a pleasure, when you realize they have a hunger for absorbing knowledge of any kind. Children who are naturally helpful, involved, and genuinely interested in the activities at home, seem drawn to learning as much as possible out of natural curiosity.
The sooner the ideas of protecting the planet are instilled and nurtured in these leaders of tomorrow using some simple teaching-methods at an early age in the home, the better off all future generations will be.



Leave Teaching-Helpful-Kids
Return To Carbon-Footprint Defined Home Page