How Fireplace-Heat-Loss
Equals Home Heating Inefficiencies
Fireplace-heat-loss in your home justified? Winterize your fireplace for starters to start making corrections.
You can reduce the loss of heat that's going on everytime you put on a fire.
I have a brick fireplace and I love it.
I would hate to be without it because of one night years ago in December when the oil furnace quit. It was a bitterly cold night, and though my living room stayed barely heated, it was better than nothing at the time.
Besides, who doesn't like to look at a roaring fire in the winter and especially during the Christmas holidays? There's just something about it that completes that feeling of pure coziness.
Unfortunately in terms of energy efficiency, an open conventional type fireplace is nowhere near the top of the list.
Think of where all that warm energy is going.
It's going right up the chimney to the outside.
Over 20,000 cubic feet of air per hour is sent outdoors and replaced by cold air coming in. That air now has to be warmed by your regular home heating system.
Once it has warmed, guess where that air goes again?



While your main heat source is running, there are some tips to know to help decrease conventional fireplace-heat-loss from the home.
Seal and plug the chimney flue if your chimney is not in use at all

Keep the damper closed unless you have a fire lit. Chimneys are designed to allow smoke to escape, so if the damper is open, the warm air in your house will go right up the chimney.

Open the dampers in the bottom of the firebox when you use the fireplace. Open the closest window to the fireplace just slightly and keep doors to the room shut. Lower the thermostat.

Make sure your fireplace screen doors have tempered glass.

Get the warm air back into the house by installing a heat-air exchange system.

Make sure the seal on the damper is tight.

Use a metal tubed grate. This will draw air in and send it back out from the fireplace to circulate throughout the room.

Use calking around the fireplace hearth.
Winterize-your-fireplace
Patch cracks and gaps in the brickwork
Check the fireplace-damper by shining a flashlight up the flue
Repair damper seals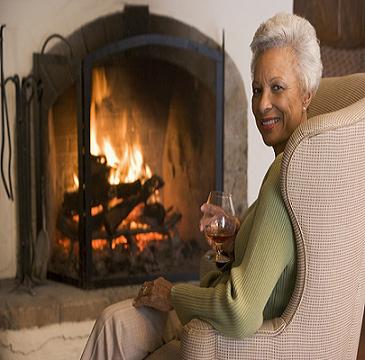 You may want to consider a pellet stove insert instead of worrying about fireplace-heat-loss with other heat sources.
There are other choices out there that will still allow you to enjoy a cozy glow!
Firewood Plays an Important Part In Heat Efficiency
Tip - Cracks in the end of the wood indicate it has been seasoned properly and is ready to use for burning.



Leave Fireplace-Heat-Loss
Return To Carbon Footprint Defined Home Page