Change
A Quote By George Bernard Shaw
by Marc
(Halifax, NS)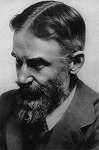 G. B. Shaw Famous Irish Playwright
"The Reasonable Man seeks to adapt himself to the world.

The Unreasonable Man seeks to force the world to adapt to himself.

Therefore, "all change" depends on the Unreasonable Man."



Jane's Reply

A great quote! George Bernard Shaw was such an interesting man.

An Irish playwright, he wrote more than 60 plays in his lifetime. He was born in the 1800's and he died in the 1950's.

In a comedic way, he addressed many problems of Society in his time, but he strongly believed the working class was badly exploited overall by various abuses.

He was very verbal in a number of subjects such as education, class privilege, marriage, religion and government to name a few, and he worked to further certain causes.

An activist and devout Socialist, he said what he wanted to say through his writings and was awarded a Nobel Prize for his many literary contributions.

His noteable quotes are many. This is another favorite.

"A life spent making mistakes is not only more honorable, but more useful than a life spent doing nothing."


Join in and write your own page! It's easy to do. How? Simply click here to return to Inspirations You Live By.