Easier To Keep Up Than To Catch Up
by Dee Richardson
(Muskogee, OK 74402)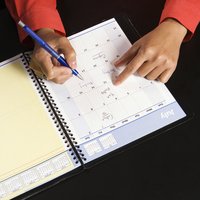 Stay Organized And Ahead of Schedule
I coined and used the quote "it is easier to keep up than to catch up" to encourage my business students to do their homework as soon as time permitted; not to carry an assignment over to the next day.

When I married and became a mother and a housewife, I practiced this in my daily life, and it has been a stress-free experience for me to keep up--keep up with housework, and all other daily routines of living.

My family and visitors have inquired of me, how my 10-room home is so organized and meticulously neat and clean. I give them the quote and tell them that they should try it. Many of them said they were.

Keeping up with the scheme of things has allowed my life to be less stressful, and gives me plenty of time to do alot of things that are relaxing.

Jane's reply

What a wonderful phrase to live by. I have learned this lesson too many times that had I only done a little bit each day, I too would not feel stressed and robbed of personal time for other things.

It really is easier to keep up than to catch up, because at the last minute, physical and mental stress combined isn't very healthy.


Join in and write your own page! It's easy to do. How? Simply click here to return to Inspirations You Live By.