Fight Global Warming: Take Away an Executive's Shoes and Socks and Introduce Him to the Barefoot Office!
by Jim
(Boston)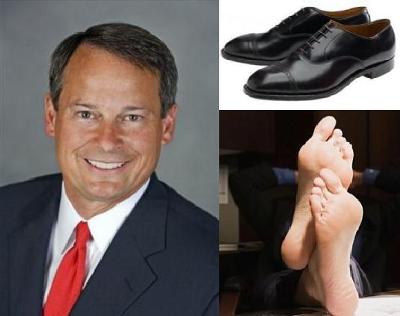 Formula For Success: Take One Well Dressed Corporate Executive (left), Strip Him of His Expensive Shoes and Socks (above right) and Create Instant Energy Savings! (below right)
This is for the corporate business office and can save a great deal of energy during the summer if it is implemented.

It is well known that allowing feet to breathe in warm weather cools the body and that cooling the soles can cool the entire body quickly.

Introducing a barefoot office would make excellent use of this basic fact. Although social and cultural traditions will make it difficult to introduce, it can be done gradually. And light bamboo sandals can be used at first.

It's true that the gentleman in the above photo may not be smiling when the policy is first introduced and his socks and shoes are taken away. Separating a powerful executive from his well-polished shoes and his dress socks will not be easy but the savings will make it all worthwhile.

Getting the Suits to walk around in their bare feet will be a challenge; it will feel awkward at first as expensive shoes are symbols of power and dignity.

Some gentle coercion might be used at first - such as a small fine for an executive who insists on keeping his shoes on. Pedicure booths will eventually replace shoeshine stands! Shoes and socks will be checked along with overcoats and jackets at the office door.

All changes are surprising at first. But eventually they are accepted.

Eventually neckties, cuff-links, suit jackets and even white shirts will follow, giving way to cooler tee shirts and short-sleeved shirts. The savings on AC will be enormous and the hierarchy of the traditional work office will be transformed as well.
Join in and write your own page! It's easy to do. How? Simply click here to return to Going Green Opinions And Tips.