My Frugal And Green Wedding
by Amelia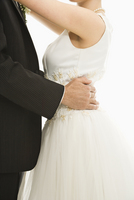 My frugal and green wedding (almost 10 years ago) was a wonderfully economical and holy occasion.

We were married on December 30th, so our church was already beautifully decorated for Christmas and we didn't have to add any further decorations.

We had a simple reception at a local Knights of Columbus Hall and everybody brought something.

We didn't do formal invitations, we just invited everyone we knew (and everyone my parents knew).

We didn't have a DJ..just brought our own music for dancing.

I wore my mother's wedding dress (which was HER mother's wedding dress)..so not only did I share in a special tradition, but we didn't spend loads of money on an expensive dress.

All in all, it was a very inexpensive, simple, lovely and green wedding!

Jane's reply

And your frugal and green wedding was just as enjoyable and especially memorable too, wasn't it? Mine too.

I especially like the idea of the Christmas wedding and how the christmas decorations also covered the wedding decorations as well. I bet it was lovely.
Join in and write your own page! It's easy to do. How? Simply click here to return to Frugal Wedding Tips.