Salt-Healing-Properties, Table Salt,
Bathing Salts
Salt-healing-properties include pain-relievers, skin softening abilities and includes the healing powers of epsom-salts in a luxurious bath.
Actually the multiple salt-uses there are vary from more than healing properties.
Salt can be used for house-cleaning jobs, and for personal hygiene too.
If you know about all of the things salt can be used for, it makes perfect sense to make good use of an everyday common household staple such as regular table salt.

Salt is not only for enhancing the taste of our foods.
The value of salt has been realized since the early days of civilization. Did you know that battles have been fought over ownership of rich salt deposits? Who would have thought this?

Heated salt packs and hot salt water compresses have been used to bring down swelling, lessen pain and reduce signs of infection. It can draw out impurities, and salt-healing properties have been long compared to and thought of as having strong anti-bacterial properties.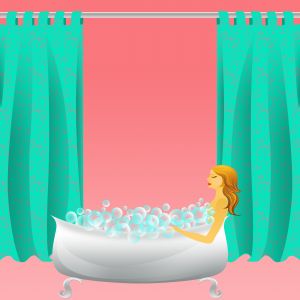 Ever wonder why, when you are achey and sore all over, people suggest that you take a long good soak in a hot bath with a cup or two of epsom-salts in the water? There is a reason.
The mineral magnesium sulphate found in epsom-salts are thought to have an effect on the nervous system, almost something like the effects of a mild sedative. During a good soak, toxins are drawn out, swelling reduces, tensions relax, and the muscles relax.
*Note - You should always consult with your family Physician to discuss health concerns you may have before using them.
Epsom-salts, or "epson-salts" as they are sometimes referred to and regular table salt for foot soaks, can get rid of odors and soothe achey tired foot muscles. The skin gets softened at the same time.
Have a sprain? You can also reduce swelling from sprains and draw out splinters by soaking in warm water and salt. I've used salt for a badly embedded splinter in the foot and it worked well.


Like regular table salt, epsom-salt shares common beauty tips and salt-healing-properties. Table salt however, has more purposes in the way of household tips.
- A pinch of salt in the coffee removes bitterness and enhances flavors
- A salted cheesecloth used to wipe things down deters mold
- Rinsing and spinning salad in salted water removes sand
- Rubbing your hands with a little salt and lemon or salt and vinegar removes onion and fish odors from your hands after cooking. This is a very popular tip many already know about.
The grittiness of table salt rubbed on your hands, feet and elbows can remove dead skin cells and make your hands feel soft and smooth.


Health Tips, Beauty Tips Using Salt
Gargle with a bit of salt water to remove bacteria. Makes for a great mouthwash, which is one of the most common of the salt-healing-properties.
A salt and water paste keeps gums and teeth healthy.
Brushing your teeth with the paste keeps teeth extra clean.
Spritzing with warm water and 1 tablespoon of salt can help set your hair.
Salt exfoliation can make your skin very smooth, (this we know) but epsom-salts can do this as well.


Epsom-Salts Beauty Tips
Mix a tsp into a jar of facial cleansing cream. Massage and rinse with cool water.
Mix 1 cup epsom-salts, 1 cup lemon juice and 1 gallon water. Cover, and let sit for a day. Pour some over your hair to remove stubborn hairspray and shampoo residue.
Epsom-salts are good for normal to oily skin face masks.
An egg, the juice of 1 lemon, 1/2 tsp. epson salts and non-fat dry milk make a great mixture.
For extra oily hair, combine 1/2 cup of epsom salts with your oily hair shampoo. Apply 1 tablespoon to hair when it's dry, and rinse with cool water. Run a bit of lemon juice through, let sit for 5 minutes and then rinse.
Like table-salt, a tablespoon of epsom salts and an equal amount conditioner warmed up, can be worked through the hair to add volume. Leave on 15 minutes and rinse.


Try putting the salt-healing-properties and the many other uses for salt to work for you in your home. You may find it can replace typically expensive items you are used to buying now.



Leave Salt-Healing-Properties
Return To Homemade Cleaning Supplies

Return To Carbon Footprint Defined Home Page