Shopping Methods That Increase Carbon Footprints
by Joanna G.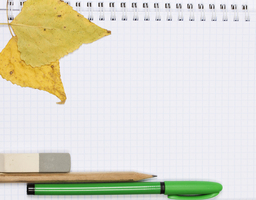 Start A To-Do List In October
Shopping methods that increase carbon footprints can be avoided if you begin to get ready early. Avoid expensive last minute shopping by getting ready for upcoming holiday expenses in early October.

Between October and December, we are all looking at big shopping days for Thanksgiving and Christmas. This can cover a huge list when you take into account gifts, large main meals, all of the sweets and goodies and supplies that go with both, as well as Halloween treats to give out too.

I think that when stressed out and in a hurry to meet timelines, we don't put as much thought as we can into what we buy, how we buy or when to buy it. Or, do we have to even buy it at all?

This leads to shopping when items aren't on sale, buying too much of something or not enough, over-spending because of last-minute convenience and buying of over-packaged items.

If you are someone trying to go green and cut down on your own carbon footprints, these kinds of shopping methods goes against all of your efforts.


The same holidays roll around every year, but we still can get caught. It's quite a job for the person who usually is in charge of taking care of it all by themselves. So much to do, and hard to remember every little task.

A general list of some pointers to making the season as relaxing as possible should help to decrease the shopping methods that increase carbon footprints and give you time to think and plan carefully.

Decide on a budget at the beginning of October. Know how much money you have to work with between now and the end of December.

Think of the things you want to do or buy or make and have to get done between October 1st and Christmas Day.

As a general example this could include things like:

Thanksgiving dinner Grocery List

Thanksgiving baking supplies list

Halloween costume for the kids

Halloween baking for kids' school party

Halloween treats to hand out

Christmas gift list

Get christmas wrap

Christmas holiday cards to send out

Christmas dinner and baking supplies list


Start a household calendar to mark your tasks on.

You know what you will need, so watch the store fliers. Pick the sales, plan your shopping trip for that time period.

The list will formulate your game-plan, give you an idea of the time-frames, and maybe combine some of the tasks into one trip to the store. Baking is a good example of this. Get your supplies for both holidays all at once. The prices will get higher right before the holidays and maybe out of stock just when you want it.

If you are making pies or cookies or squares for Thanksgiving, do an extra batch, and throw it in the freezer for Christmas.

If you are able to plan ahead, don't buy a halloween costume. Think about what you have at home to put a costume together yourself cheaply. Or, make a call or two. Borrow from a friend or family member.

Same goes for christmas presents. Do you know what people want? If you don't, now is the time to gather ideas.

Is there time to make something craft-wise yourself? Is there a good sale on a specific item or two? Get them now. Don't buy something at the last second that doesn't mean much and is too expensive for your budget. If you are out buying at the last second, the prices will have gone up considerably for the last-minute shoppers. That's what the vendors do. They know you need it and will buy it regardless.

Check now if you have xmas wrap from last year, set aside an evening and get presents wrapped ready to go as soon as you can. If you don't have wrap, remember to save what you have this year at Christmas, or get it on Boxing Day when cheap. Write and address a xmas card or two while wrapping.


What you are doing is making good decisions now that will avoid the shopping methods that increase carbon footprints long before the holiday event gets here. You are also relieving the stress that is to come if all done last minute, and that's very important to your health too.