The Benefits of Green Energy
by Marshall B.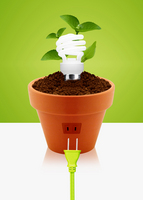 Change Over To Green Energy
The benefits of green energy will be good for us all personally in the future. Whether you are part of the green living movement or not, you will have no doubt heard about green energy. One thing about it, it is going to be a huge part of our future in one way or another.

Oil is a fossil fuel that isn't just expensive to get out of the ground, but toxins are produced from the drilling processes. The drilling process destroys natural resources and pristine lands. Oil spills are a risk to land and to our waterways. The by-products can directly be linked to pollution of the air we breath, the water we need to use. It's a huge contributor to the greenhouse gases that cause global warming.

Green energy doesn't do any of this. It produces nothing that is harmful to our environment.

Green energy comes in a variety of forms like geothermal, wind power and solar energy. When creating energy from any of these sources, there are no hurtful consequences. Energy from the sun can be created and stored in a solar cell. There isn't anything destructive or negative about that.

Green energy provides two main benefits to the environment. No pollution or waste from the sources of the energy and no resulting emissions. When you remove harmful greenhouse gas emissions, this has to have a huge impact on global warming and improve the condition of the planet.

Cost is directly a concern to us all personally.

If our homes ran entirely on sun energy, think about the impact that would have on our electric bills. It would certainly free up alot of cash at my house.

The cost to change over to an alternative type of green energy from fossil fuels would cost me money initially, but that expense would balance out within a few years I would think.

You don't even have to change over your whole household at once. You can take advantage of green energy in different ways. You can use sustainable resources in small amounts if you want. Solar panels can be worked in as you can afford them.

It depends where you live, but some energy companies offer the ability to specify just how much you want to be on or off the grid and where your energy comes from. That gives you choice.

You can also choose to support businesses that use green energy themselves as well as support other causes that practice sustainable methods.

The benefits of green energy are too important to ignore, and though it may take a while, it will be the way of the future.
Join in and write your own page! It's easy to do. How? Simply click here to return to Going Green Opinions And Tips.