Eco-Friendly Last Minute Halloween Costume
by Grace
(Canada)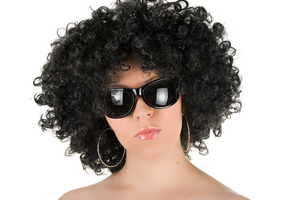 Wig and big dark sunglasses instantly disguise
Make yourself an eco-friendly last minute Halloween costume for a last minute party invitation if you need it suddenly.

If this happens, and you didn't have anything ready this soon, not to worry. There are things you can come up with from home, instead of going out and buying something packaged and expensive. This is what makes it so eco-friendly.


Creating a costume quickly with what you can find around home might be a challenge, but it can be done.

A facemask can be printed out from the internet and traced onto cardboard.

It can be colored and decorated first, then attached with elastic bands or string. Cut out holes for the eyes and nose.


You can use wool for hair, or attach it to the edges of a large hat to cover your head. Don't forget mom's makeup for face paint, and mom's jewelry for earrings and beads.

Does someone in the house wear a wig or use the hair extensions on barettes? Perfect!


You can make a half mask only just enough to cover your eyes if you prefer. Or, look for props like large sunglasses that are owned by others in the house.

You can make a mask for your eco-friendly last minute Halloween costume out of a paper bag. Decorate it whatever way you want to, and add a hat to keep it securely on your head.

Now think about your costume for the body. Many types of clothing will help, like a man's suit, a housecoat and slippers, a long nightgown, a prom-dress can be accessorized for a last minute
princess Halloween costume.

All-brown or black clothing can simulate animals like a bear or a cat.

A large white sheet is one of the quickest ways to dress up as a ghost.


Look around for nylons, leotards, different shoes boots, belts and gloves.

I went as a construction worker once and dressed in my husband's work-wear and gear including the hard-hat. Took 5 minutes to get ready.

You can use a variety of items to decorate.

Things like sequins, glitter, markers, even xmas decorations and wrapping can give you options.


If you have a large cardboard box, a few cuts here and there and you could dress up as a christmas or birthday present.

Put on a pair of black leotards underneath. Cover your head in bows and ribbons. Attach a card as a tag to the box and you are all set.

Think you can't or your child can't attend a party because you haven't got the costume yet? Not so.

Just put your brains in gear, look around, and get creative. You can come up with a costume in no time.

And, how much greener could this outfit be?

No packaging to be thrown away, no money spent, use of the items already made, and most of the outfit will be recycled easily for next year or
better yet, returned back to it's original use at home.

This would be the ultimate eco-friendly last minute Halloween costume ever for a one-time event.