Preserve Baby's First Halloween Costume
by Eileen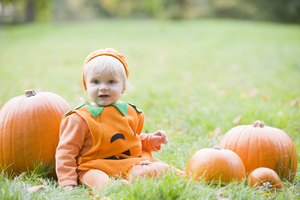 Preserve Baby's First Halloween Costume
Preserve your baby's first halloween costume on film, dvd, vcr, or in a scrapbook, because the chance will never happen again.

We parents love to take the baby out on halloween night. We want to participate in Halloween but want to show off our baby too.

If you made your child's first halloween costume, which is a good idea, you will want your baby to see it someday as a great memory, and you will wish you had captured the moment. There are many many firsts in your child's life, and the first halloween counts too!

You or your child certainly won't remember it exactly down the road.

Wouldn't you like to relive the moments someday?

First Halloween keepsakes will be something so precious to view and remember over and over again.


You can make this occasion memorable by taking pictures as a family, or individually. Make a home video before you leave the house or as you are out "pretend" trick or treating. (We know the baby won't be eating the treats!)

A halloween-scrapbook of baby's first halloween can be started and kept up through the years for every Halloween to come.

A scrapbook will preserve the memories forever, and provide lots of laughs probably over the costumes you came up with over the years.

A scrapbook can take advantage of stencilling, different colored stamps, materials from around
the house, and of course loads of pictures taken every year as your child grows up.


Try to get photos with sisters and brothers and other family members as well like Aunts, Uncles and cousins if they live closeby. Don't forget Grandma and Grandpa!

Be sure to give everyone good advance notice that you're coming over Halloween night, and they will take photos or videos of your evening as well, which is a great chance to be sure not to miss doing it for whatever reason which could come up.

You'll also end up with a great variety of photos too which will preserve baby's first Halloween in the best way possible.
Join in and write your own page! It's easy to do. How? Simply click here to return to Homemade Costume Tips.