Aspirin-Uses
Aspirin For Pain
Aspirin For Stain Removal
Multiple aspirin-uses aren't just for relieving discomfort reasons only. Acetylsalicylic-acid-uses are applied in different ways around the home too.
It's amazing to me how many simple everyday things there are out there that we assume has one purpose and one purpose only. We don't get told really about all of the mighty things these items can do for us in other ways around the house.
Going out and spending money on a needless expensive cleaner, or throwing something away because we just assume it's of no further use is what many of us do.
It's really quite remarkable what a tiny little aspirin is really capable of and the power it has, medically speaking or otherwise.



This simple generic drug, which is made by a number of companies is a staple in most homes for mostly quick relief of the pounding headache.
It's looked to as well for reducing fever, and general relieving of overall aches and pains.
There is definately another benefit medically speaking.
Rubbing an aspirin over an inflamed area from stings or insect bites will ease itchiness and work to reduce the swelling as well.


Blemishes and pimples can dry up from salicylic acid. Make a paste, and apply. This is similar to applying a drop of perfume on a blemish as well.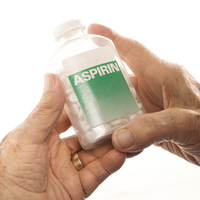 Hard callused feet? That's an uncomfortable feeling.
Mix up a thick paste of 6 aspirins, a tiny bit of lemon juice and water, and spread well over the callus.
Make sure to wrap your foot in a towel, and let it sit for 10 minutes. Rinse, and using a pumice stone, the callus should be much easier to remove as it should have softened quite a bit afterwards.
Aspirin-pain-reliever and health-related problems are not your only options though for aspirin-uses. There are some other amazing properties of aspirin that are a bit of a mystery.


Extend The Life of Your Flower Arrangements
Make your arrangement of freshly cut fowers, which includes bouquets of roses, last longer. Crush an aspirin and put into the vase of water. Do this daily and enjoy your arrangment much longer than usual.
Aspirin-Uses For Perspiration Stain Removal
Do you have deoderant stains on shirts that have turned yellowish? Can't wear them anymore?
Mix a crushed aspirin with some warm water to make a paste. Rub over the stain, and let soak for awhile before washing. Try this before you part with a garment you love.
Aspirin-Uses for Food Stain Removal - Eggs
If you have dropped raw egg on your clothing, try to sponge out as much as possible with warm water. After that, make up another paste with some warm water, cream of tartar and a crushed aspirin. Spread the paste on the stain, and let it sit for 30 minutes. Rinse out well after 30 minutes, and the egg should be gone.
Hair Affected By Chlorinated Pool Water
Too much exposure to chlorine in pools can affect light hair and not in a nice way. Color can change noticeably.
To restore, crush 8 aspirins in warm water and massage in through your hair. Leave it there for 15 minutes.
A few aspirins crushed into powder and added to your shampoo, can help help control dandruff too!
Asprin-Uses For Car Troubles
Did you know that the combination of acetylsalicylic acid and the sulphuric acid of a battery can produce a charge? So they say. I've never had to resort to this myself.
But, if your car won't start, and it seems your battery is dead, give this a try. Put two aspirins in the battery and see what happens. Proceed to the nearest garage though, as this does not mean your battery is now good again or the problem is solved.
Aspirin-Uses For The Garden Fungus
Using one aspirin mixed with one quart of water, may treat your garden soil and rid it of any fungus settling in. Don't use too much aspirin, as it can actually burn your plants.
Aspirin is known to gardeners as a rooting agent as well to help get things going.


The properties of an aspirin are amazing enough. The variety of aspirin-uses for everyday other things are just as amazing too.
If you can extend the life of a flower, or bring new life back to a favorite shirt, that's pretty amazing too I think. Give these little simple aspirin remedies a try.



Leave Aspirin-Uses, Return To Homemade Cleaning Supplies

Return To Carbon-Footprint Defined Home Page