Garage-Sale-Tips
For Yard Sale Income Success
Cleaning House? These garage-sale-tips promise many useful hints for successfully getting rid of your extra junk. Reasonable garage-sale-pricing and presentation is key.
Yard sales are alot of work, but a thorough checklist of helpful tips will let you breeze through the process just fine.
It's nice to recycle items you no longer need by making them available to those who could, and getting a good housecleaning done at the same time.



Extra money for the efforts don't hurt either.

I love garage sales. Never know what you will find. I love to go, and I have put on a few over the years too.
But, if you aren't prepared for the big day, it can be chaotic, frustrating and tiring and you may hate the thoughts of ever running one again. I know the feeling.
That's why you need to be aware of the number of great garage-sale-tips that are out there for a profitable-yard-sale.
Advance planning and organization are key.


Having been both a seller and a frequent customer of yard sales, I recommend you follow these garage-sale-tips to make the running of your sale a fun and enjoyable experience.
THE GOAL IS TO BRING AS LITTLE AS POSSIBLE BACK INTO THE HOME RIGHT??
With this is mind, there are number of garage-sale-tips to consider.
Give Yourself Lots of Time
House-cleaning over the winter months is the perfect opportunity to sort and sift out items you no longer want.
Start with a number of boxes and categorize the items as you put them in. For example sort as to books, kitchen items, clothing, toys, etc. This makes it easy to group and organize later.


You could also be a vendor at a local flea market too on week-ends to make a few dollars and get rid of your unwanted valuables at the same time. Many people do this as a hobby.

Garage-Sale-Tips For Presentation
This is so important. Wash them or dust them well as you choose your items for sale.
From a customer point of view, dirty or stained items are a real turn-off. Damaged clothing is too. Don't put things out with buttons or zippers missing. Save those for your rag-bag. The same applies to ripped items.
Don't put out broken or cracked items. Then again, people are very good at fixing things or making crafts from nothing. Put it in a box marked "Free" items. Someone might be glad to take it off your hands.
There's also that "basement smell" to be concerned about.
You know, that musty moldy smell, that as far I'm concerned is next to impossible to get rid of. Again, as a customer I have walked away when I have smelled this.
This is a good garage-sale tip to remember, as sellers don't always consider this. You will have to decide whether or not to put these items out there.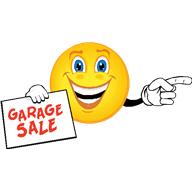 Garage-Sale-Tips For Choosing The Date
I find Spring is the best. Die-hard yard-salers have been itching all Winter to get back out there, and usually set aside Saturday mornings. By the same token, garage-salers hate to see the season end, so they are hoping for just one more to go to before the Fall ends.
Don't have your sale on a holiday week-end. Many people are away on their own holidays.
Find out if anyone in the neighbourhood is having one on a specific date. You will get their traffic as well.
Advertise Your Sale Well
Place your ad in your local newspaper at least once, maybe twice. People are watching and like to plan their route.
Sometimes when placing an ad, you will be supplied with a sign. They are usually free.
Tell your friends, family and co-workers.
Place ads on community bulletin boards, usually found at malls and grocery stores.
Put your ad on a local Buy & Sell usually through your local internet server page.
Place signs around your town. Make sure about the rules for putting signs on hydro polls. Make sure the signs are good-sized lettering, legible and easy to see from the road by someone driving by. Test it for yourself. Stick with a plain bold black marker, or the dark neon markers. Put arrows on the signs to show the proper directions.
Place signs on the corners of your lawn or on your driveway.
You can also use blown up balloons to draw attention. Excellent garage-sale-tip to attract people.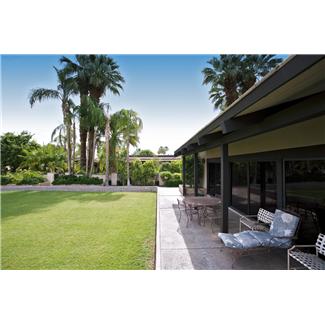 Garage-Sale-Tips About Location
The front of my house and deck is blistering hot in the morning. It was enough to make someone almost faint once. My backyard is much better. It is a bigger space with lots of room for roaming around, and shadier. There are no difficult stairs to climb. Maybe this is the case at your house too?
Decks also tend to be confining and crowded, especially when large groups show up at once. An open driveway is better.
Your customers need to be "comfortable" as they browse.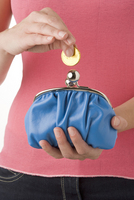 Have Lots of Change To Start
It never fails. First customer has a twenty-dollar bill and nothing smaller. Don't get caught. Get some change and small bills a day ahead of time. Plan to keep it in an apron or fanny-pack on the day of the sale. Don't have an open container on your table for it.
Hate to say it, but there are some dishonest people out there.
Besides, you will have enough to do without having to try to keep your eye on it, or physically carry it if you are called on to assist one of your customers.
Also, frequently take your money on the day of your sale into your house, just to be on the safe side.
And, speaking of valuables, if you are selling small valuables like jewellery pieces, display them at the table where you are sitting so that you can keep an eye on them.
Have Bags Or Small Boxes Available
Also, have newspaper or old tissue paper available to wrap up any breakables.
Garage-Sale-Tips For Security - Lock Your House
As I went into the house quick to take in some money, I was quite shocked to find a lady standing in my living room trying on a pair of pants!
Well, it was fine I guess. Afterall, what could I do at that point? However, I was quite mortified and it's now a funny story. Actually, my husband had just come home from being out, and one minute earlier, he would have walked in on her. Anyway, there was no harm done.
The lesson is, some people can be very bold. You never know what could be going on especially if you don't have a helper and are running your sale alone.
One of the best garage-sale-tips is to have a helper if at all possible. Makes alot of difference.
If you are alone?
Get your coffee etc. ready to take outside, and make a final trip to the bathroom. Once the people start arriving you may not get a chance at these things again for sometime.
It can be very hard to get away. And really you shouldn't be away from your "stuff" or your customers.

Garage-Sale-Tips For Setting Up
If it's reasonable and do-able, set up the night before and cover with plastic to keep the morning dew off of your items. This is such a timesaver. If you can't do this, you will have to hustle very early in the morning depending on what time you advertised your sale.
Clean up your yard. Mow the lawn, pick up any messes if you have animals. Make your yard look attractive.
Large tables or sawhorses with plywood are perfect for displaying your treasures.
Have lots of space between tables so people aren't back to back and bumping into each-other.
People don't generally want to have to stoop down low, or dig through a mish-mash of things in boxes. They might if they absolutely have to, but remember:
Die-Hard Garage-salers are in a hurry!
They have a list of places they want to get to, and they want to get there before everyone else does. They scan quick, and know immediately if they want to spend time here.
So, make it easy for them. Items easy to see, handle, spaced out, neatly and nicely presented and especially in proper form. For example, make sure that cd's, videos, dvds and cassettes are in cases and all together.
If you have clothing PLEASE hang it up on hangers on an umbrella clothesline or make-shift clothesline of some kind. This is so easy for people to actually look through. If they are on a table, at least keep them folded as much as possible. Do the same for boots and shoes. Keep them together in pairs. Don't let the look get messy.
Group Your Items
If you have a tent for sale for example, set it up if possible. Put other items with it like other pieces of camping equipment. Present it as a package. It may sell quickly that way if someone is looking for exactly this kind of thing.
Place some attention-getting items at the edge of your drive or lawn to catch the eye of people passing by.
Have batteries and a plug-in ready to prove that your items work. People will want to know. They are not afraid to bring things back a day later wanting a refund.
Remember this garage-sale-tip especially when men might be buying hand-tools.
Have a radio or music going. Dead silence is a bit unnerving. Have some low music going in the background, and not blasting. Some kind of easy-listening is the best choice.


Garage-Sale-Tips For Pricing?
Personally, I need to see prices. I can't guess. I'm not good at it. And, if someone wants 50 cents for a book I can't bring myself to ask if they will take 5 cents instead. I just don't do it. As a seller, I must admit I feel a bit insulted by this. However, it's done all the time.
Negotiation is a big part of the process. Price your items as you see fit, but keep in mind, this IS a garage sale. Do you want to take it back into the house or do you want it gone?
Offer to maybe lower your price if the item is still around at the end of the day. Ask your customer to come back. Or, simply negotiate a half-way point.
Offer some deals. I find clothing hard to sell sometimes so offer a deal by the armload or by the bag-full.
If you don't price items individually, have some large signs displayed with the prices listed on that. This is actually a good time-saver.
If you are selling with a friend, color code your tickets so you know who sold what.
Garage-Sale-Tips For Handling The Early Birds
If you advertise your sale for 8 a.m., expect people to show up as early as 7:15. I actually had 2 ladies at my door at 6:10 one morning.
Again, some people are very bold.
I chose to politely ask them to come back later, because I knew they would.
You may hear excuses for why they can't come back later and need to see your things NOW. This is your call.
Contact Charitable Groups
There are many community organizations who run garage sales of their own. Most are quite happy to have your leftovers for their sale, and some will gladly come and pick it up.
If you are willing to donate what doesn't sell, give them a call to make this arrangement.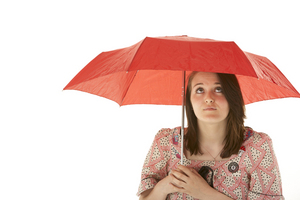 Be Prepared For Rain
You may have a sense it could pour on the day of your sale.
Have lots of sheets of plastic ready to cover your items. Also have a sign ready to stick out on the lawn showing "cancelled" or a possible alternate date.
People WILL show up anyway to see what is going on.

Garage-Sale Tips, Last But Not Least
Most yard-salers take a quick glance around and they form an opinion quickly as to whether or not it is worth their while to browse. At least this has been my experience.
Make your sale visually appealing. Make them want to stay.
Though it may be difficult as the day progresses, say hello and smile. Be courteous and helpful if asked.
By following these garage-sale-tips, your day is bound to be a successful one.


Leave Garage-Sale-Tips, Return To Recycling-Tips

Return To Carbon-footprint Home Page