Laundry-Room-Tips

Basic laundry-room-tips for conserving water and energy. Using-the-clothesline is a must saving hydro and water too.
The water principle is the same as it is for anywhere else in your home. If you use less water, you are apt to heat less water, and that's easier on your energy costs.
The same energy efficiency theory applies as well in the laundry-room as it does to appliances in your kitchen.
Appliances work best at their full capacity. Keeping this in mind, and your concerns about carbon footprints, there are some great hints and laundry-room-tips to follow on washing day.


Laundry-Room-Tips for the Washing Machine
Try to do full loads of laundry at once. Make sure your laundry hampers are full first.
Check the dial before you walk away so that there will be enough water or not more than you need so that water isn't wasted and heated for nothing. Use the appropriate level setting all the time.
Better yet, set the washer to wash for a shorter cycle. You will save water, wear and tear on clothes, and energy as well.
If laundry stains are extra tough, make use of the pre-soak cycle, or pre-soak in your laundry utility sink. Don't wash twice.
Use some borax for the cold water. It is a mineral-cleaning agent and a great detergent booster. Use a 1/2 cup for whiter whites. This can also cut your laundry-soap use in half.
Use cold water. Your clothes will be cleaned just as well for average dirty laundry.
Use cold water detergents that are designed to work more effectively in cold water washes. Borax is one of them.
If you don't want to use cold water, switch from the hot water setting to warm. Not only does energy use get reduced by half, your clothes will be better rinsed and less wrinkled.
Ever thought of making your own homemade laundry soap?
You can make your own laundry detergent or laundry soap recipe using washing soda, bars of soap and borax.
Some people opt for the natural laundry detergent or "greener" laundry soap brands you can buy in the supermarkets.
Some people use Ivory, or Fels Naptha bars. The soap is heated and everything is mixed to form a liquid and stored.
Look for the Energy Star Label when shopping for a new machine. Energy Star is known for efficiency.
Buy a front-loading machine when the time comes. Without the agitator, there is more room for more items. This is gentler on the clothes, and the front-loading machines use less water and energy. They spin very effectively as well, so less drying time is needed.
To keep your machine running efficiently, run a full cycle once in awhile of distilled white vinegar.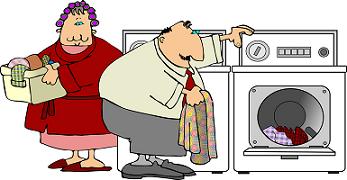 Your dryer ranks number #2 on the list of being hardest on your hydro bill
FOLLOW THESE LAUNDRY-ROOM-TIPS FOR DRYER USE.
Dry cottons and heavy items together.
Dry light-weight items together to allow the dryer to run for shorter periods of time.
Don't overstuff your dryer. Not only will the laundry not circulate properly and not dry the items, this can be a fire hazzard as well.
Do not put dripping wet items in the dryer. This will make the machine work much harder. Wring them out if they need it as much as possible, or spin the items again.
Be sure to clean the lint filter faithfully to avoid clogged air circulation. This is caused not only from fibers from the laundry, but dryer sheets leave a film. This film can be gently scrubbed from the mesh in your sink to remove any particles. You may not think the film is there, but it is.
Don't over-dry your laundry and waste energy. Check the setting, the amount of laundry and time it accordingly.



From Picking Out a Machine, to How To Wash


Best Of The Laundry-Room-Tips

Using-the-clothesline as much as possible is a must. Of all the laundry-tips you can follow, this is so important.
Do you use your dryer more than you should?

Invest in good wicker laundry baskets. Use them!
Use a laundry drying rack or hang clothes in a heated basement or rec-room if possible. Hang your clothing on hangers in a room where there is wood heat for quick free drying.



Using the clothesline will not only save on electricity costs, but it will greatly prolong the life of your clothes,linens, and the life of your dryer for when you really need it.


Teach your kids proper laundry-room-tips and etiquette.
I know, we were all kids once too, and not to pick on teenagers, but they can be notorious for washing one pair of jeans in a full washing machine, and using the dryer for that one pair of of jeans as well. I'm sure many of you know what I am talking about.
Show them how it's done and make it a hard and fast rule that if they need something washed, at least use the proper level settings, or look around for more wash to do at the same time.


Leave Laundry-Room-Tips
Return To Conserve Water Wisely

Return To Carbon Footprint Defined Home Page