Biodegradable-Sunscreen Requirement
Vacation With Eco-Frendly Sun Tanning Lotion
Choose a biodegradable-sunscreen to aid Ecopark survival. Ecofriendly and organic-sunscreen does more than just protect people, and the Ecoparks in popular vacation spots are demanding co-operation in this respect, so take heed before you travel.
Did you know that the suntan lotions we use can be harmful? I'm sure you have heard that they can be.
Most inorganic sunscreens are full of chemicals that are questionably not good for people, yet provide protection from the rays of the sun.


The chemical-free-sunblock or organic-sunscreen, does not have a chemical base, but concentrates on being herb, mineral and plant based. Titanium dioxide can block the harmful sun effects and is non-toxic.
Other ingredients such as green tea and zinc oxide make these eco-friendly sunscreens in demand because they don't cause damage to the ecosystem.

Amazingly, and unknown to many, the sunscreen people use while swimming has an effect on the damage done to the coral.
Unlike biodegradable-sunscreen, the chemicals found in the regular sunblock lotions actually destroy algae that coral feeds from.
This causes coral to turn white and die.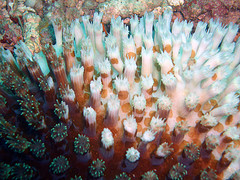 Bleached Coral



The chemicals are actually so harmful, there are Ecoparks that have banned them.
There has been testing done, and it isn't just a theory. Low doses of common sunscreens were added to waters containing coral and in less than one-hundred hours, the coral released a mucous and turned white.
Virus's that were dormant came alive and infections started affecting not just the coral, but it included aquatic life too.

Photo credit: Schick from morguefile.com


Cozumel Cancun Beaches

Photo credit: pablogv2004 from morguefile.com
No snorkeling in National Parks, Xel-Ha, Xcaret or the coral reefs at Cozumel Cancun Mexico without the proper and acceptable biodegradable-sunscreen.
Good sunscreens don't contain oxybenzone or Vitamin A, which is thought to not only speed up the growth of tumors when coupled with sunlight, but it apparently disrupts the hormones and balance of aquatic life systems.
How could anyone complain? Chemical-free-sunscreen formulas won't hurt the coral reefs and Ecoparks, and it's good for your skin.
You of course, have to be protected as well from the rays of the sun.


Don't ignore sound advice that will keep you safe and protect against
Dry Skin

Wrinkles

Premature Age Spots

Skin Cancers
Use enough for adequate protection, which the rule is thought to be at least 1 tsp. per body section 30 minutes prior to exposure to allow it to absorb well into your skin. Don't choose powders or sprays.
Apply to clean dry skin. Remember to reapply as necessary. Swimming, drying off with towels, perspiring, undressing and redressing all contribute to your sunblock wearing off.
Sit in shade as much as possible, and avoid the sun between the hours of 11:00 a.m through 3:00 p.m. when the rays are the strongest.
Remember also, that harmful rays are reflected by sand, concrete, and water.



Stay cool in loose cotton clothing, and wear a hat that covers well. Wear a good pair of sunglasses suited for UV protection.
Make sure your organic-sunblock is at least a 15 to protect against rays.
Do not ignore cloudy or overcast days. You are still exposed to at least 80% ultra-violet rays.
Protect yourself well from the sun, and when shopping for lotions, think of biodegradable-sunscreen too. Do it for our delicate ecosystems.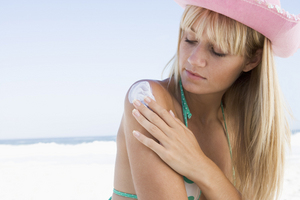 Leave Biodegradable-Sunscreen, Return To Eco-Friendly Vacation

Return To Carbon Footprint Defined Home Page