Bottled-Water-Ban In Your Town
Plastic Drink Containers Not Allowed
Asked to put a bottled-water-ban into effect? Not the purest spring water afterall you are told?
A ban on the supply and sale of water in plastic bottles on municipal property has been suggested to numerous City and Town Councils across Ontario. My Town Council was approached asking the powers-that-be to take a stand on the availability of bottled water.
The Polaris-Institute, an Ottawa based public interests group
is making this request of over 400 Councils across Canada as
well, and with good reason they feel.


First of all, if you know nothing about the Polaris Institute,
they are like a think-tank of concerned individuals whose
mandate is to enable citizens to fight for social democratic
change by challenging corporate policies on social issues,
economic issues and environmental issues.
A bottled-water-ban is just one item on their list of concerns.


Bottled water, which many of us have in our homes or wouldn't
dare be without, has become quite an issue for discussion and
heated debate as well. A bottled-water-ban would be pretty
tough for some people to take.
The numbers of plastic bottles being tossed in the landfills
are astronomical to say the least.
Not everyone recycles as they should.
Many chemicals are used to produce these bottles, and they
really only serve the purpose of a one-time use.
It is claimed that the bottled water is environmentally more
harmful than tap water. The argument is that plants that
produce the water are rarely inspected.
Federal regulations in Canada are severely lacking and inadequate.
They say that current labelling does in no way address health
concerns of the content of the bottles. There are no
markings as to how to store the product, or to any sign
of expiry dates.


The Polaris Institute is concerned that statistics show that
one out of three Canadians are consuming this product as a
primary source of drinking water, when our tap water is
checked and tested numerous times daily by our own municipal
facilities.
And, so why are we drinking bottled water? Why aren't we
promoting our own? The Institute wants to know!


Generally, most bottled water testing has shown that most
brands are relatively free of contaminents. Healthy
people don't face any real threat to their safety.
On the other hand, the "allowable" presence of bacteria
in some samples could prove a threat to someone with an
already weakened immune system. The people in these groups
could include AIDS patients, chemo-patients, babies, elderly
people and transplant-patients.
Some of the chemicals found in samples could pose a cancer risk.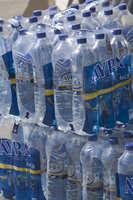 I have always pictured my bottled water (yes, we have it in our home too) as coming from the purest-spring-water from some far-off remote place in the world, having never been touched by man.
Don't we all think this?
Studies have in fact shown, that most brands are nothing more than re-bottled municipal tap water.




So, maybe the Institute has a point, asking for a bottled- water-ban when there is a perfectly good public service in place.
A number of Municipalities across Canada in seven provinces have taken steps and put the restrictions into effect.
Could you return to drinking good old tap-water if asked?



Leave Bottled-Water-Ban, Return To Conserve Water Wisely

Return To Carbon-Footprint Defined Home Page