Picking Up A Broken-CFL-Bulb
Handle Mercury Vapors With Care
Don't panic about a broken-cfl-bulb. It can be dealt with yourself or at Home Depot Recycling.
Everybody is nervous about breaking one of these, and certainly you should have some concern, as the compact fluorescent bulbs do contain mercury.




The best way to picture the amount of just how much though is to picture the old type of thermometer. The mercury-content in that, is equal to at least 100 bulbs.


Feel a little bit better about it?


Until the researchers though find a suitable replacement, and
that doesn't seem to be in the very near future, mercury will
continue to be found in the fluorescent bulbs, as it provides
a very efficient source of light, and lasts such a long time.
You still have to take some precautions.



Since the bulbs containing mercury can be harmful to people
and the environment, they need to be handled and gotten rid
of in a safe and responsible way

If you should drop a bulb by accident in your home,
open your windows for about 20 minutes so that any vapours
that result can get out.

A pair of rubber gloves are essential to have available
in your home if you use cfl's. You will need to put a pair
on.
Don't touch the broken bulb pieces at all with your bare hands.

Do not use a broom or a vacuum cleaner either.

Find some pieces of cardboard or heavy thick paper to sweep
the pieces up onto.
Wipe the area well with damp paper towels. You can then use
some pieces of scotch tape or some kind of sticky tape to
press down onto the area and pick up what you might have missed.

All paper, paper towel, tape and pieces of cardboard and your gloves have to go into a sealed plastic bag.

If you don't have a plastic bag, put it all in into a cardboard
box. Seal it well, and label it.

This cannot go in with your regular household garbage.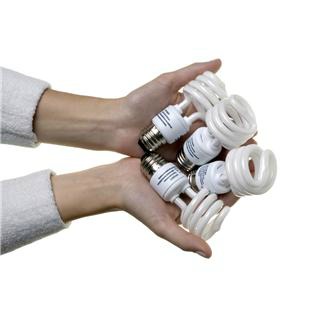 Most towns have a hazardous waste pick-up time in the Spring,
when everyone is cleaning and getting rid of paints and things
like that. Set it out then, check with your landfill site, or
call your town office directly about where and when you can
safely dispose of a broken-cfl-bulb.
You might also try Home Depot. There is a Home-Depot-Recycling
Program set up that will collect compact fluorescent bulbs that
have quit working for whatever reason earlier than they should
have, but are still intact. They have this program in place to
make sure they are recycled properly. They may also know where
to take a broken-cfl-bulb. It's worth giving them a call if you are
stuck.


These bulbs may have some drawbacks as far as the mercury is
concerned. A few people are electing to go with LED lighting
instead because of it. But, it is a very efficient light source
that saves at least 2000 times its' weight in emissions from
greenhouse gases.



Leave Broken-CFL-Bulb, Return To Home Lighting

Return to Carbon-Footprint Defined Home Page