Color-Easter-Eggs Using
Vegetable And Fruit Dye Egg Shades
Naturally color-easter-eggs using plant based dye and create interesting easter-egg-designs with a few tricks.
These methods are quite simple actually, and takes the mystery out of the easter-egg-decorating. Some designs are so perfect and precise, it makes us wonder just how someone did it.

There are a number of vegetables and fruits that can be used to come up with different colors for your eggs. This eliminates the need for chemical dyes, and is much better for the environment too.
Unless otherwise noted, boil your eggs with the ingredients, and then let then soak in the dye. Remove, and let dry.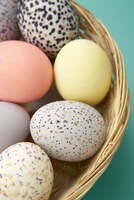 Easter Egg Color Shades
For the color red, use red onion skins

For the color brown, use strong coffee, black walnut shells
For the color blue, use Blueberries (canned) and juice
Grape juice (purple)
Red cabbage leaves

For yellowish-green shade, use green apple peelings

For the color orange, use yellow onion skins

For the color yellow, use lemon peelings, tumeric, celery seed, carrots, ground cumin

For the color green, use spinach leaves

For a pink shade, use beet juice, cranberry juice, raspberries, rhubarb stalks or partial rhubarb root

For a lavender shade, use watered down purple grape juice or
mashed violets and lemon juice




When coloring easter eggs, make sure to put some newspaper down first, and wear some gloves so your hands don't absorb the plant dye.
This is an excellent fun way to do free easter crafts especially if you are sending the kids on easter egg hunts, which is a must for an easter activity.



Just How Do They Do It?
Wonder how they make those neat-looking easter-egg-designs? You see everything from marbled effects, to striped. You can criss-cross string, tape, elastics, whatever you have.
Vegetable oil is used during the process to produce certain effects, and it's used afterwards to make your easter eggs look glossy too.



Have fun when you color-easter-eggs. As you can see by the video, it's not difficult, and you are sure to invent all kinds of different egg designs and masterpieces. Just takes a little imagination.



Leave Color-Easter-Eggs, Return To Easter Carbon Footprint

Return To Carbon Footprint Home Page