Controlled-Ripening-Technology For Healthier Snacks
Biodegradable Plastic Package
Controlled-ripening-technology makes healthier snacks readily available, by the use of a biodegradable-plastic-package to cover them in.
At least this is the philosophy behind extending fruit shelf life and offering better food choices in a variety of locations to the general public when they crave them.



This type of packaging will be covering bananas and eventually other snack items to reduce the ripening time, and sold individually as snacks on the go in a variety of different locations like corner stores, gas stations, recreation centres and gyms.
Just think, the next time on that long trip, you will be able to avoid the usual chips and chocolate bars at the gas station, take advantage of controlled-ripening-technology and get your kids fruits instead. They may or may not love you for it!


The bags are supposed to lengthen the life of a banana by as much as 5 days. Thats a carbon-footprint saving too when you consider waste.

How Does The Fruit Ripening Process Work?
As ethylene, the natural hormone of fruit is produced, the quicker the process. Acids and starches break down to sugar, and the fruit begins to soften. This is what sends nutrients to the seeds in order to signal the growing process.
As ventilation is a great trigger for ripening, it must be available, yet slowed down at the same time to keep the ripening from happening too fast. Chilled temperatures aid in slowing down the process as well.
Bananas and apples are quick producers of ethylene gas actually. Some fruits and vegetables produce gases quicker than others. This is part of the reason for keeping certain ones apart when storing at home.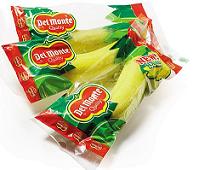 Del Monte is producing display units of ten pounds of bananas and individually wrapped bananas for snacks to be purchased by the general public from vending machines.
Prefer vegetables instead of fruits? This same idea is being looked at as well. The way they see it, this type of move will cut down on their own deliveries, and save what's going into the landfills.


The recyclable bag is supposed to not only extend the life of a banana by as much as five days, but it's supposed to enhance the taste too.
Some think a banana is much sweeter having been bagged this way.



The Banana Package Controversy
Bananas have peels or a protective covering already you might say. This is exactly what people are saying in fact.
"isn't the natural peeling acceptable enough? Aren't the bags themselves just one more item for the garbage can eventually?"
Those doing the questioning are seeing the whole process as a step backwards and not a step forward.
Well, it appears to be subject for debate.
Currently, this biodegradable-plastic-package system is offered in the United Kingdom and the United States, and apparently costs a bit more to the consumer.


So, when you spot bananas packaged and available where you are not used to seeing them, this is controlled-ripening-technology at work, and with you the customer in mind.


Leave Controlled-Ripening-Technology
Return To Green Workout Routine

Return To Carbon Footprint Defined Home Page