Cookie-Swap
Trade Batches of Cookies With Friends
Bored? Cookie-swap parties can save time, mess and sometimes money. Out with the old baking, in with new tastes and flavors for a change of pace. Start a holiday-cookie-exchange with friends and co-workers.
Thanksgiving and Christmas holidays are a great time for family and friends to connect, relax, and enjoy these seasonal events.
I love the autumn-themed Thanksgiving and a snowy Christmas and everything that goes with them, but for some of us, this time of year can be simply overwhelming. The bulk of preparing for Christmas especially usually falls on the shoulders of the Moms, at least that's always been my experience.
As one who loves to bake, and there is certainly alot to make for both, I do look forward to the opportunity to cook. It sometimes can be a messy, large and tiring chore too depending on timing.
This Christmas season, or for any other holiday or individual event when necessary, gather your friends, family or people you work with and do a holiday-cookie-exchange. A christmas cookie- swap can give you alot of variety to take home to your family, without going through all that baking yourself if time doesn't allow. It definately gives you the chance to try alot of other people's christmas cookie recipes. Maybe you will adopt a few of them as your own.



How Does A Cookie-Swap Work?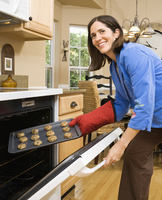 First of all, this type of exchange can be done anytime, but at Christmas especially, there are so many beautiful and delicious cookie recipes associated with the season, it's probably the best time ever to encourage people to join and participate.
Let's say there are 6 people (including you) involved in a cookie-swap at work. Each person has to bake in this case, 6 dozen cookies of their own choice of recipe. Leave one dozen of your own recipe at home, and take the remaining 5 dozen to work. Everyone else there will be doing the same.
You can box up your cookies in small decorative boxes, or in bags or pretty cookie tins. If you are feeling especially festive and have them, you could bring your cookies in vintage cookie jars. That's a nice little extra touch and a nice little surprise gift for people to get.
It really doesn't matter how you bring them. It may be decided that everyone is responsible for bringing their own containers to get their cookies home in.
The cookies are put out on display, and everyone gets to go home with a dozen cookies 5 times. That's five different type cookie recipes that you go home with, and and "voila" your christmas baking is done.

Well, at least in the cookie department.



Advance Planning of
A Cookie-Swap Is Helpful
A cookie-swap can be alot of fun if planned well.
A holiday-cookie-exchange I participated in once was held on Thursday, so needless to say, the Wednesday night before was a busy evening following the regular work day.
For this reason, the group may want to do some advance planning that will eliminate that kind of stress.
If you want to have a holiday cookie exchange at work, your group may want to consider:
Comparing notes, and being sure not everyone is planning on making the same thing. The idea of the exchange is variety and experiencing different flavors.
Allergies are important, not only to the baker, but to their families. This is important to know and find out about. Someone may feel it's important to opt-out because of this or maybe they can participate afterall. This should be discussed. Perhaps supplying the ingredients of your recipe would be a good idea? Attaching a cookie-dough-recipe would be sensible and nice for as well for those who want your best cookie recipe.
Make sure you know exactly how many people you have to bake for. It's ok to have too much, but you wouldn't want to be short.
The timing is important. Can these cookies be frozen for awhile? Some cookie recipes can't.
Have your exchange on a Monday. At least this way, people have the week-end to get their baking done and divided up. And also, anything can go wrong. The recipe might not turn out, you may need to go out for more ingredients, the power could be out, or the stove could break down just when you need it. You never know what can happen at the last second.
If this is an exchange between friends and not work-related, the week-end would be a good time. This way, no-one may have to worry about getting up for work. It can just be a party-type event.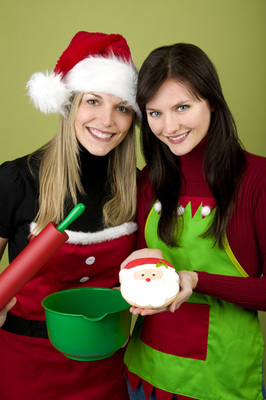 Saving The Baking?
Not Necessarily
A cookie-swap isn't always about saving baking to have over the holidays. It can be an event for people to just make an afternoon or evening of it and try out different things. In other words, eat the baking right then and there.
A cookie-swap for "saving the baking" can be a good idea, but it can also have other concerns and maybe some downsides too.
First of all, though you may be tempted to try out a new recipe for everyone else, it might not be the time.
What if it doesn't turn out, or doesn't taste as good as you thought it might? It may in fact be the time to stick with a tried and true recipe you've mastered well.
I like using this shortbread-cookie-recipe.
I know it tastes good, it's never "off" and always turns out.
If I have to bake six dozen of something and especially to hand out to other people for them to take home, I like to be confident with what I am working with. This shortbread cookie recipe is perfect for a christmas cookie- swap. Turns out every-time. Try it if you like!


Favorite Shortbread Cookie Recipe

1 cup of soft butter
1/2 cup icing sugar
1/2 cup cornstarch
1 tsp. vanilla
1 cup all purpose flour

This recipe calls for sifting - optional. Blend with a spoon and do NOT use an electric mixer.
Blend well until you have a soft dough. If the dough seems too soft, cover and put into the refrigerator to chill for a half hour. Shape into 1-inch balls and place 1 1/2 inches apart on an ungreased sheet. Flatten lightly with a floured fork.
Bake at 300 degrees F. for 20-25 minutes or until cookie edges are lightly browned. This makes 3 - 4 dozen.
I do different things with the cookies from time to time. I add a chocolate chip in between two of them, or sit one just on the top. Or, I sprinkle lightly with green, red or both sprinkles among other types of decorations. Sometimes I've added a tsp. of almond flavoring to the dough. They are good plain with nothing added at all too.
I tend to make the cookies larger; and this recipe can be doubled easily.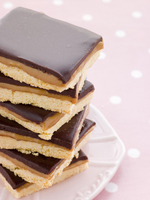 Another issue? You may not be terribly impressed with what you bring home. Some items may not be to your taste at all or even in one piece.
This is a chance you take with someone else's baking. Don't know what you are going to get.
Two of the cookie recipes were more like squares and very very messy in the cookie-swap I participated in. They came home falling apart and were consequently thrown in the garbage. Fact is, they were recipes meant to be refrigerated at all times, and there just wasn't that convenience at work for the day.
If this is a christmas-cookie-exchange, you may want to be sure to have a few of your old faithfuls on hand for at home.
It may be delicious, but you might be better off making something that's not messy and goopy and soggy and will fall apart by the end of the day. And, they have to be fitted into containers. This means more handling and can contribute to the problem.
A more "solid" type cookie might be the better choice to make. Your best sugar cookie recipe or pumpkin cookie recipe for example might be a better choice. They are much more firm, and most of those recipes don't require any type of cookie frosting either.
There really are many advantages to participating in a cookie-swap event. Do join in if asked. It can save your energy, your dishes, expense, and kitchen energy too depending on what you might normally make for the holidays. Planned well, you will be glad you did.
Looking for some delicious cookie-dough-recipes? Check out The Toronto Star Advent Cookie Calendar for a new Christmas cookie recipe every day of the month, or at anytime, perfect for cookie-swap recipe ideas.


Leave Cookie-Swap, Return To Christmas Carbon Footprint

Return To Carbon-Footprint Homepage