Cooking-With-Fresh-Herbs
Add Herbs For Aroma
Cooking-with-fresh-herbs enhances any kitchen cuisine. Begin slowly if you are a beginner cook, and start with a basic culinary-herb-list.
One of the fun and interesting things you can do cooking-with-fresh-herbs from your garden after harvesting, is to make a gourmet meal out of the plainest of dishes.
The slightest addition of an herb has the power to change the taste of your favorite veggies, crockpot stews, homemade soups, cuts of meat, salad or even bread made by hand or right in the bread machine.
Everytime you change the variety of herbs to any one dish, you've created a new recipe.
If you aren't an herb user at all, don't go overboard when cooking-with-fresh-herbs at first. Just add a tiny bit to test. You may not like the taste and want to adjust.


Need examples of how to use herbs-for-cooking in your everyday menu planning?
Decoration for garnish is one good use.
The simple placement of a fresh herb, like a sprig, can pretty up any dinner plate. Sprigs of rosemary over a lamb chop just makes the chop look that much more inviting.
When cooking-with-fresh-herbs, think about mashed potatoes.
White mashed, boiled or a basic potato salad screams for a sprinkle of parsley.
How much better does the dish look after a good sprinkle?
It makes the world of difference.
Parsley over chicken pieces in a tomato sauce or mushroom soup sauce just adds the finishing touch. I love adding parsley to top off the look of these dishes.
Drinks are often garnished with sprigs of fresh herbs too. You will find them in everything from cocktails to teas.
Garnishes are lovely and when cooking-with-fresh-herbs. Use them as decorations to dress up foods and drinks by making the visual appeal of your dish pop.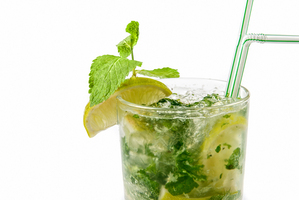 The herb garnished mojito
Herbs-for-cooking are herbs for decoration too.
What's a good way to start as far as cooking-with-fresh- herbs goes?
Well, in the cooking world, certain foods are enhanced and usually found paired with certain herbs. Most people have a basic culinary-herb-list they are always making sure to have on hand at all times.
Cooking with dried herbs is always just fine, but cooking with fresh herbs is even better.
Think about the spaghetti sauces you've tasted.
Basil is usually found to be a good mix with the tomatoes.
Oregano is another one. Lamb is usually associated with mint or rosemary. Chives are delicious when mixed with a soft creamed cheese, as is dill. Dill goes very well with softened butter.
Speaking of butter, here's something you can create.
How about a variety of herbal butters as a fantastic quick and easy addition to mashed potatoes, pasta dishes or sauces?
- Choose a fresh herb and chop up finely, enough to equal 3 or 4 tablespoons.
- Mix it well into a third of a cup of soft butter.
- Spoon this onto a piece of plastic wrap and shape it into a roll. Keep this in the refrigerator to chill.
- When you need some, simply cut off a piece from the end of the roll.
The pairing of certain herbs with specific foods are certainly not hard and fast rules. You can combine your herbs with anything you like of course. It's all a matter of taste.
In my house, turkey dressing just isn't the same without sage. It just seems to be the perfect addition to the mixture of the vegetables and bread crumbs to enhance the taste. Other's haven't noticed when I didn't have any. Again, it's all a matter of personal preference.
Take a look at the ingredients in salad dressings and marinades sometime. Lots of herbs!
Experiment a little and make your own herbal vinegars for your salad dressings. Choose a variety of herbs to marinate a cut of meat overnight in closed bag or in a covered bowl. Just wait and see how the meat tastes afterwards.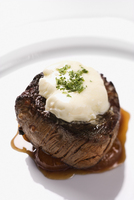 We love to marinate a roast of beef in italian salad dressing with some garlic overnight. Italian dressing is loaded with wonderful herbal seasonings. By cooking-with-fresh-herbs that are added to an oil, you can learn to make your own marinade.
Barbecue that beef slowly all day, and you will be blown away by the taste using this simple and easy marinating tip with herbs.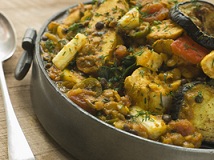 Make sure dill and basil are on your culinary-herb-list.
Dill is another herb that is used to full advantage for it's ability to enhance visual appeal and the flavor of dill can be applied in so many ways. Nothing is wasted. The leaves and seeds can be used.
Looking for an easy appetizer? Mix up a little mayo and salmon. Spread on your favorite snack cracker and sprinkle with some dill seeds. Very nice.
Adding dill when making pickles is very standard as well.
Like dips? Cooking-with-fresh-herbs also allows a simple sprinkle of dill into a chip or vegetable dip and it's delicious. It pairs well with the cream cheese, and sour cream in dips, and sour cream too for potatoes.
Make a dill-butter for seafoods and it's quite lovely melted in buttery form over a variety of steamed vegetables such as green beans, cauliflower, and all forms of potato dishes.
Use fresh dill leaves with some sauteed zucchini. Lovely. Dill is a favorite sprinkled on pork, lamb and fish, especially salmon.
Tip - Use dill seeds when cooking something for a long period of time.
Like basil, dill leaves can be frozen in baggies. Dill stems will keep in the refrigerator by making sure the stems are in water, but not the leaves.
Keep the seeds in a tightly sealed jar or plastic container.
Cooking with basil is very common and so popular in many forms. It can be used in a frozen or dried state.
You will find that cooking-with-fresh-herbs like basil can be included as a compliment to a number of dishes such as omelettes, rice recipes, pestos, soups, stews and mushroom dishes.
Try adding basil to a variety of vegetables. No end to that list really, which includes squash, zucchini and egglplant.
Fresh basil leaves added to an olive oil or green salad adds a lovely flavor.
Did you know that when heated, the taste of basil is intensified?
Preparation of Herbs For Easy Storage
Were you aware that refreshing your herb leaves too much by dipping in cold water can make them go soggy and lose their flavor?
There are a few things you can do to get the most out of your herbs properly.
Dipping herb leaves into a bowl of ice water is good, but don't do it for very long. They can get too full of water, go soggy, and become tasteless.
Lay them on paper towel in a colander and spritz with cold water briefly. Remove the dampness, and then use.
Store your freshly picked herbs in the fridge for easy access and freshness. If you haven't used used them as quickly as you thought you would, the next best thing to do would be to store them in a frozen state.
Place them in a baggie or on a piece of tin foil (laid out flat) and just throw it in the freezer. Take a sprig as you need it.
You can also freeze them in ice-cube form. This is a really neat idea, and prevents so much waste. A wonderful time saver in the kitchen too.
Wash your herbs well, run your finger up the stem for the woodier stemmed herbs, chop up and load up your ice cube trays. Cover with water and freeze. When needed for a recipe, just pop out an herbal ice cube and throw it in your dish.
The main thing to remember about cooking-with-fresh-herbs is that they don't last forever.
They have a short life once picked, so to serve them as fresh and flavorful as possible, pick them as close to meal-time for use as you can.



Leave Cooking-With-Fresh-Herbs, Return To Indoor Herb Gardening

Return To Carbon Footprint Defined Homepage