Your Credit-Card-Dilemma
Correcting Spending Habits
Avoid a disastrous credit-card-dilemma which will result in skyrocketing credit-finance-charges that are hard to pay because of an inability to budget, and a future full of financial headaches.



Cash only is always the best idea for as many purchases as possible.
There is no doubt about that. However, I know there are times when you just don't seem to have a choice but to use your card for other things. Just don't turn into one of many cash-strapped-consumers out there.
In a perfect world, this would come under the category of "for emergency purposes only." (If you had no other resources, this really would be a credit-card-dilemma.) How many really stick with this concept? Most I hope, but it's hardly the case, as the average credit card debt world wide is fairly high.



Having credit isn't necessarily a bad thing. One needs this established to be able to do certain things. The concern is how it is managed.
If you must use a credit card for holiday shopping, use a low-limit, low-interest card.
Limit your use as much as possible, and never carry around a wallet full of cards. The temptation is too great. It's also very difficult to keep track of your spending habits and credit card balances all at once.
Avoid cash advances as much as possible. They carry higher interest rates and fees for the service.


When the bill comes in, make sure you pay it on time. The fee for interest can jump if you don't.
Try not to make only the minimum payments. This makes the payment process take far too long, and certainly increases the cost with interest tacked on.
Avoid those credit-finance-charges as much as possible, which are the main cause of the credit-card-dilemma you will face.
If for some reason you can't make a payment, never ever ignore the bill. It's not going to go away.
It is also very difficult to re-establish credit and keep your credit history in good standing, when your history is full of credit card defaults in payments.
Contact the company; make an arrangement. Do something.
Advance notice is the best idea, and most creditors are willing to work out a solution towards lowering monthly credit payments.
You may even be forced to think in terms of debt consolidation services by way of a debt consolidation loan to get some credit card debt relief.


Think in terms of "need" versus "want" when you use your card.
Pretend that card is your paycheque; would you really use the money to purchase what you are considering buying with the card?
"Need Vs. Want" is a pretty popular phrase when thinking in terms of carbon footprint reduction too." This is why most of us have ten times more junk laying around collecting dust.
Keep low balances, within 30% of your limit. Keep in mind that credit scores are determined by the amount of debt you carry.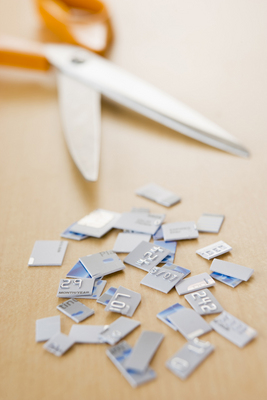 Don't ever close-out a card without checking first how much that card makes up your credit score.
Closing the card may seem like a great idea, but sometimes it's not.
Always be on the lookout for lower interest rates.
Periodically check around if the card you have is the best deal. Feel free to try to negotiate a lower rate of interest with your creditor to avoid higher credit payments.



Be Cautious
Exercise Good Judgement
When you are out shopping, never let your card out of your sight.
Keep it close to you, and after you use it, put it back into your wallet, not your coat pocket.
Do not let a friend use your card.
It's nice to be that generous, but whatever they spend, (and you will not have control briefly) you will have to be totally responsible for the debt if they do not make the repayments as promised, quite possibly leaving you cash-strapped.
This could result in quite the credit-card-dilemma for you monetarily, and you will most certainly lose a friendship in the process.
Resist the "greeters" at the door of the stores who try to entice you to sign up for a card on the spot.
It is difficult as these people are everywhere especially during a major holiday season. You walked in without the card ready to spend, so you don't need it now. Keep walking.
They may promise a low interest rate now, but it will go up eventually.
Lower rates are not a bad thing, but the idea here is, if you have a card that you are happy with and the rate is manageable, don't acquire more cards than you already have.


Do not buy for yourself while out shopping for others.
You may be tempted to treat yourself, and we all deserve that from time to time. However, one "treat" can lead to another, and then another. Don't start this habit. You could possibly become so credit-crunched, and not have anything to spend on your necessities let alone yourself for quite some time.
This has to be one of the worst problems for those who find themselves in a huge credit-card-dilemma. No self control and the desire to have things "now" instead of saving for them.


Go over your monthly statement faithfully, to be on the lookout for fraudulent credit card charges.
If you think you see something that doesn't ring a bell, contact the credit card company immediately.
These items are usually subject to a time-frame. If they are not caught within a certain period of time, this is an indication that you have accepted your statement "as is."
This is a very important rule to follow in regard to credit-card-management and identity theft, and results in the worst credit-card-dilemma of all. Would you really want this kind of mess on your hands to clean up? Absolutely not!



Best idea? Leave the card at home altogether.
The impulsive purchase you may be tempted to make today, may not seem like the best idea tomorrow afterall.
Most debts acquired during the christmas season mostly do revolve around the use of your major credit cards when the urges and pressures to buy at certain times of the year are the strongest.
January is when most people experience a credit-card-dilemma and are so sorry that they didn't have more self control in December. It never fails. Don't get too caught-up in the spending seasons...they come and go and are quickly forgotten by the people you went overboard on anyway.



Leave Credit-Card-Dilemma, Return To Holiday Debt Reduction

Return To Carbon-Footprint Home Page