Cucumber-Uses
Cucumber Facials
Cucumber Masks
The many cucumber-uses include not only recipes, but benefits to the skin because of strong cucumber-hydrating-properties.
Cucumber slices are delicious in a bowl with a bit of vinegar over them.
My mother always did them like that at dinner. Didn't care that much for cucumbers like that as a kid; bit too tangy for me and heavy on the pucker-power, but I do like them like that now.
Some people like them fried in a pan.
Dip cucumber slices in a bit of milk and flour, and lay them in a sizzling frying pan with a bit of oil. Fry until good and crispy.
Did you know you can freeze pieces of cucumber?
Peel an entire cucumber, and slice. Arrange pieces of cucumber on a cookie sheet, and put them in the freezer for 20 minutes. Bring them out, and then put them into freezer bags. Pop back into the freezer to keep until you want to fry some.



Cucumber-Uses Around The Home
When you peel cucumbers, you probably threw the peelings into the composter right?
If you don't have ants, that's a great idea. However if you do have an ant problem, spread the peelings around your home. Ants don't like cucumber peelings (roaches don't like them either) so put some out around the doorways, window-sills and on your kitchen counter.
I've done this, as I always see a few ants in the Spring. My Grandmother did it, and that's where I first heard about this. This seems to work for me.
Cucumbers are also known for their great hydrating properties because of their extremely high water content.
Of course, hydration is necessary for really healthy skin.
Cucumbers contain ascorbic acid, silica, and magnesium, which contributes to the astringent qualities and is known to soothe irritations of the skin like rashes and burns.
Cucumber combined with epsom salts in your bath is thought to add to the relaxation of a nice long soak. Good for the skin.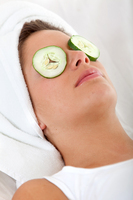 Cucumbers are also known for the ability to reduce swelling and puffiness.
It's common for people to put slices of cucumbers over their eyes, and this is why they do it. You may have already tried this.
It's refreshing, relaxing, and seems to bring eye puffiness down significantly in as much as fifteen minutes.



Looking for some great cucumber recipes for cucumber masks?
Very good for toning the skin and beneficial as an overall skin refresher.
It takes very little other ingredients to mix these recipes up.


Cucumber And Yogurt Cucumber Facial Mask
Chunked Cucumber mashed
Half cup plain yogurt
1 egg white
Combine and mash together well. Spread lightly over skin. Rinse off well after 15 minutes.



Honey & Cucumber Facial
Puree one cucumber, and press through a sieve to remove any chunks.
Add in 3 tsp. of honey
Pat gently over neck, underneath chin and over your face with a light cloth or cotton ball. Refrigerate up to one week.



Make a cucumber paste combining avocados.
1/3 cup chopped up avocado
1/3 cup chopped cucumber
1 egg white
3 tsp. powdered milk
You can use this immediately, or refrigerate to chill first.
Combine well to make a paste. Spread over face like a mask, and let it set for 30 minutes. Rinse well with warm water.



Next time you've made a salad, a dip, or a creamy cucumber sauce or dressing, don't throw out the peelings or leftover pieces. There are other cucumber-uses, especially cucumber-beauty-tips for yourself you can try to get the most out of every speck.



Leave Cucumber-Uses
Return To Kitchen Carbon Footprint

Return To Carbon Footprint Home Page