Remember when cutting, be kind to the tree. Cut close to the ground and to the trunk, and don't take everything from just one spot.
As soil in planters that are forever outdoors begins to freeze up, it serves to anchor these items well.
What helps eventually is a bit of light snow and then some really good cold weather. Gives a nice glowy frosty effect.


Boughs that are real or fake are timeless christmas staples for eco-friendly-christmas-decor. It's all about recycling too.
Not only are they pretty in the outdoors, boughs placed inside across a mantlepiece, a bookcase, on a bannister, across the top of your kitchen cupboards, on a fence, or where-ever you want to arrange them are beautiful as well.

Photo credit: caz1958 from morguefile.com


Photo credit: gracey from morguefile.com


Photo credit: greenfinger from morguefile.com
While arranging your branches in large urns at your doorway are nice, do the same inside your home, and do them up with some clear lights and nothing else for a nice warm glow.
Make them last longer if you can, using an oasis foam to keep them moist if possible.
Why not break with the traditional wreath, and make your own eco-friendly-christmas-decor in the form of a door swag?





You can still make a "Christmas Ball Wreath" with the extra ornaments you do have, by wiring them onto a grapevine wreath, or a small green store-bought wreath.

Photo credit: cohdra from morguefile.com

Jazz Up Your Eco-Friendly-Christmas-Decor With Different Colors
Try spraying the tips only of boughs, pinecones or both with different shades of color like light blue, purple (eggplant), or whatever you like.
Metallics like gold, copper and silver are great for that shimmery sparkly look.

Photo credit: ladyheart from morguefile.com
Red and green will always be classic and traditional. Coppers, browns and burgundies are fast becoming popular colors to mix as an option too.

Photo credit: chamomile from morguefile.com



Christmas ornaments like toys, birds, and dried fruits for example are lovely wired onto the branches to give a bright but bold eco-friendly-christmas-decor feel.

This is where you might find things to re-use from the box of assorted items you are now keeping. Large christmas balls in the deep reds and greens look especially nice as always, and stand out well.

Glass balls are nice if window boxes and planters are well sheltered from snow, ice and wind. I prefer the hard plastic because at least if they fall out from not being secured well, they won't break into those tiny pieces.

Clear lights spaced through-out always add to the beauty of any arrangement.

The pinecones you have gathered outside, can be arranged inside too.

Place a basket of them on a fireplace hearth or mantlepiece.

Pinecones also make great little name-tag holders at a dinner party. You can and should bring eco-friendly-christmas-decor to your dinner table as well.

Want To Scent Your Pinecones?

Scent throughout the home plays a part in your eco-friendly-christmas-decor planning as well.

Dip the tips in glue, and then in cinnamon. Or, ...

you can spray them with a mix of oil and water of any of your favorite scents. Vanilla would be especially nice at christmas time to add some seasonal smells to your home.

After spraying, place them in a sealed bag, and let them sit for a few days. After that, do whatever you like with them. You can place them in bowls throughout the house, or in the baskets with the pine boughs.



Indoor Air Freshener

Use your favorite essential oils for scent instead of sprays and toxic air fresheners by combining 4 parts water in a spray bottle combined with however many drops of oils you want to; you can spritz your natural arrangements frequently.


Natural Gift Wrapping Decorations Using
Eco-Friendly-Christmas-Decor Materials
We know to re-use and save any gift-wrapping materials. Ever thought of decorating your gifts with natural items?
There are a number of items that can be used to give your gifts that pretty, organic-designer-type" look.
This looks especially pretty against white paper.
pine-sprigs or trimmings
twigs, sticks
winter berry cuttings
holly sprigs
Nuts or dried fruits sealed tightly in a tied clear plastic baggie with a bow.

These ideas add originality, earthy colors, and a bit of tradition to your packages under your own tree, not just to the ones you give away.

And as for tradition? It was very very common years ago during christmas to give gifts of food. Most times, it was all people hadto give each-other.


Fruits are one of the most common items used for eco-friendly-christmas-decor.

There is quite a list too that all fit in with Christmas quite well.

Cranberries, apples, clementines, pears, dried fruits of all kinds and nuts serve as decorations, as well as centerpieces by themselves in bowls.

Cranberries can be strung for tree decorations or used in natural-christmas-garlands.

They are a natural alternative to plastic beads, just as popcorn is too.

Speaking of food, my daughter made gingerbread cookies one day for something to do. I sprayed them (not sure with what) and of course they aren't edible, but I keep them because it's something she did. They come out every year and are just a neat homemade decoration that I like to look at.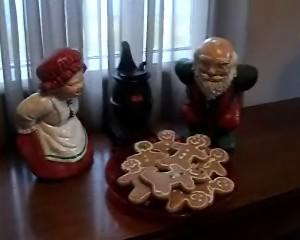 You can make your own pomanders for display or hide them if you wish.
Take a large needle and poke holes into oranges, apples, tangerines or even lemons and attach cloves into the holes.
Place them on a decorative christmas tray or dish filled with cloves and cinnamon, for a lovely aroma thoughout the room. The fruits can be rotated from time to time as they dry out.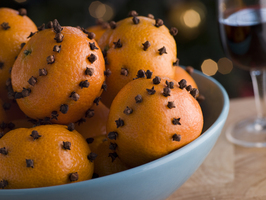 Cinnamon sticks tied with a bow or a piece of raffia can be used as a great scent source as well, and placed just about anywhere.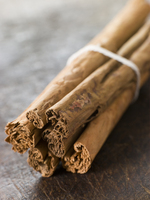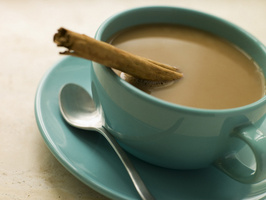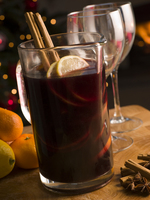 Don't forget, they add a great taste to your hot and cold drinks as well as just decorate them nicely too for visual appeal.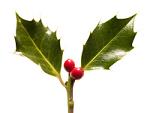 Popular Eco-Friendly-Christmas-Decor Plants

Photo credit: bowlingranny from morguefile.com
What would Christmas be without a poinsettia?
There are so many different kinds to choose from, and I know you can spend a fortune on them depending on size and store you buy them from.

Photo credit: bosela from morguefile.com
I usually get one from the food stores in the plant section, and the price is usually right. I don't do this all the time, in fact what I use right now, are "fake" poinsettia that I bought on sale after Christmas in a Zellers store I believe.
Certainly I would prefer a real one, but these look lovely and so real. There isn't a thing wrong with them, and so re-using them as long as I can is fine with me.

Photo credit: ronnieb from morguefile.com
A christmas cactus is quite nice, though I don't seem to have the luck some people do.
Must be the location I put them in. I think they require more heat than I give it. Again, they are relatively inexpensive, and come in so many different colors like red, purple, pink and salmon colored are the ones I have seen.

Photo credit: bandini from morguefile.com
The red amaryllis is popular with people at this time of year too, and they are quite gorgeous.
There are so many things you can do with what you already have. Trouble is, some people don't realize it, and reducing carbon footprints just aren't an issue for many. And of course, tastes in decorating vary from person to person.
Do you have a favorite way of using an eco-friendly-christmas-decor style during the holidays?
There are so many great ideas to be shared I'm sure. Visit Eco Friendly Celebration and we will be happy to post your ideas and photos.
Whether carbon footprints are an issue or not, there is just something special about the eco-friendly-christmas-decor that is at our fingertips. The fact that how it is used, and how it can be recycled in a number of ways, is just an added plus to how it visually contributes to the natural scenery of the christmas season.
Leave Eco-Friendly-Christmas-Decor, Return to Christmas Carbon Footprint

Return To Carbon-Footprint Defined Home Page