Green-Educated-Designer
Eco-Friendly Home Consultants
Choosing a green-educated-designer will ensure consideration of a green-certified-manufacturer among other resources while creating your eco-friendly project.
The designer will consider client needs and what will suit them best in their situation in regard to budget while trying to find a good balance between client desires and their realities.
Many green products carry a higher cost than other products or materials. Research and good connections will provide the best outcome for the customer.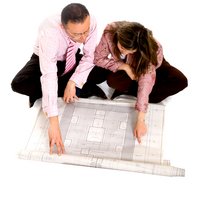 The green designer will want to deal with companies that have a sustainable approach to product sourcing.
The designer and the vendors and suppliers out there will know how to deal with:
Certain building techniques; being concerned with reducing forest devastation as much as possible.
Alternative building materials that are easily renewable resources.



Making good use of recyclable materials.
This works well when the clients are enthusiastic about recycling, and resalvaging materials they already have like old cupboards, kitchen cabinets and materials of that nature.
Thrift shops, salvage yards and garage sales are a great source for items to reuse and recycle especially for bathroom and kitchen renos.
What the designer needs to be aware of though when it comes to eco-interior-design, is that there could be liability issues and some builders and designers may not want to use them afterall.
Desirable vintage or handmade products may or may not be quite as suitable in these cases.


The green-educated-designer must: take into account the carbon footprint of the product and just how environmentally friendly in comparison with other materials it really is, and how the product got there in the first place before recommending anything.
Know how to take advantage of natural light wherever possible.
Have a knowledge of solar and wind energy.
Take into account local environmental concerns.



Interior Products
Substandard air in the home can be from volatile organic compounds found in paint. Most lines of paint now are very low in these compounds, and one most know this to make the proper choices in the beginning.
Building materials like non-toxic insulation, and caulking are available.
If upgrading or replacing appliances, energy efficiency is the key.
Energy Star products will provide energy ratings of the appliances needed to be purchased.
Water conservation in the home is equally important. Products such as water saving faucets for example are available to the consumer.
The best heating and cooling systems need to be addressed.
The green-educated-designer may advise a client to have an audit of their present system before proceeding with any changes.


Accounting - Use of tax credits where applicable for using materials from green manufacturers.
Good for the Designer and the customer in terms of saving money, and taking advantage of incentives to buy green.


Whether you are remodelling, purchasing a new home, or building from scratch and want to do the best you can do in terms of being as eco-friendly about it as possible, search out the talents of the green-educated-designer. This will serve you well in the overseeing of your project and meeting your expectations upon completion.


Leave Green-Educated-Designer, Return To Eco-Friendly Buildings

Return To Carbon-Footprint Home Page