Controlling Job-Interview-Jitters
Avoid Nervousness At Interviews
The key to coping with job-interview-jitters is to relieve the smaller stresses first that go hand in hand with being pre-interview-prepared as much as possible.
Preparing for an interview isn't just about the interview itself. There are things to do beforehand, and not on the day of the meeting. Too many times, people leave everything to the last minute. That just makes their job-interview-jitters worse. Whatever can possibly go wrong will, and of all times, it will be on this day.
This is not being job-interview-ready, because it means being stressed out to begin with about other things not necessarily directly job-related.
Answering interview questions are intimidating enough, I know.
Having been through a number of them, I think afterwards my job-interview-jitters were mostly attributed to the fear of the unknown. Not being prepared in many other ways didn't help either though.


There are things you can do to cut down on job-interview-jitters. Taking care of some basic common-sense steps prior to the day of the interview can alleviate alot of those butterflies and anxieties.
If you give yourself lots of room to prepare, the job interview itself won't seem so bad after-all. At least you should arrive there in a much calmer state of mind.
To avoid job-interview-jitters, job interview preparations should start well in advance, keeping in mind some very important pointers and interview advice tips.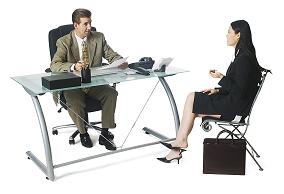 Avoid Job-Interview-Jitters By Knowing This Company
What do you really know about this business, other than the fact that they are hiring?
Do they have a mission statement? A mandate? What kind of services do they provide? What kind of a customer base do they have? Who do they deal with daily? How long have they been around? Find out a little bit of history if you can.
This can help you in two ways. You can come up with questions of your own later in the interview, but more importantly, you will be able to confidently answer their questions to you regarding what you know about them.
The more you know, the better. Knowledge indicates genuine interest and effort on your part. So, do your homework.
Practice A Mock Interview
Practice and rehearse responses to questions.
Be prepared to clearly articulate why you are suited to the job, what you can offer, and why you want to work there.
Be prepared to tell what you know about this Company.
Be prepared to talk a little bit about your own background.
These are some of the common interview questions that are routinely asked during an interview session, and where people get caught off guard. These answers aren't tough interview questions but they require some thought, not just a "yes or no" response. With the stress of wanting to get it just right, and not miss a beat at the same time, applicants find themselves floundering a bit to give the perfect response to something they haven't really thought about.
So, if you want to rehearse something, have your responses ready for these questions, and be that much more job-interview-ready.
Depending on the position you are applying for, you may be able to think of or anticipate a number of questions dealing with situations specific to your field.
Many interviewers throw case-study scenarios or "situations" out there and ask "How would you handle" or "How would you deal with..." this specific problem, or this type of customer, etc.
Try to anticipate these types of questions if you can.


Avoid The Job-Interview-Jitters and Know Where Your Job Interview Is Being Held
If you live in a small town, chances are you know exactly where to go. If you live in a city, it could be tricky.
Make sure you have a proper street address and telephone number. If you don't have a clue where you are going and the clock is ticking, your job-interview-jitters will send you into a panic.
Know your route. Drive it once yourself, or if someone is taking you, make sure they know where they are going. Know how much time it will take, taking into account distance, time of the day, do you have to find parking and then walk far?
Do the route once if you have to with public transportation.
Visit the building; locate the floor and the office.
It's one thing to know the location of the building, but if you don't know what floor an office is on, or realize you have to find an elevator, you can lose precious time.
Being on time is crucial, and arriving 15 minutes early is usually recommended.
Also, confirm your babysitter if you need one. Double-check this as the day gets closer.


Make Sure You Have Some Things With You
Two copies of your Resume and copies of References
Copy of Certificates
Writing paper, pens
If you require reading glasses, don't forget them. Often times, you may be given a Job Description to look over while you wait. Make sure you can read it. Carry your things in something a little professional looking.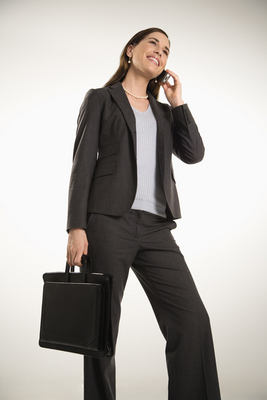 Interview-Attire - Dress Conservatively
What to wear to an interview is so important. Select what you will wear well in advance.
A suit, a skirt and jacket, a pantsuit or dress is quite acceptable.
Make sure there are no rips, tears, stains, buttons missing, dragging hems, broken zippers, wrinkles, graphics or written sayings on anything you are going to wear. Ladies, check for runs in nylons; buy an extra pair in advance.
Don't wear outfits that show bra straps, cleavage or "skin" showing from tube-tops or things like that.
Check your shoes, jacket or coat for rips, scuffs, and stains as well.
Do your washing and ironing etc. at least the day before, not 10 minutes before you have to leave. If something happens, you have lots of time to pick something else. Have something else ready anyway, in case you spill something on yourself before you leave. It happens!
Ladies, don't do anything drastic to your hair the day before! You may not have time to fix it.
Same goes for the men. If you need a cut or something done, get it done the earlier, the better. Job-interview-jitters will be the least of your worries if you have a hair problem to deal with.
Be conservative with your accessories. Easy on the makeup, jewellery and nail-polish.
Be prepared for reaction to tattoos and piercings if you have them. This is a touchy subject, but let's be honest. Some people are very judgemental. It may not be personal, but in terms of their clients and customers, they take that into consideration. I have seen it happen.
You may choose to remove your piercings and cover tattoos as much as possible, or you may not. This is of course your call, but be aware that there are some positive and negative attitudes out there as well.
Clean, neat and conservative dress is important overall. Suits or a sport-jacket, shirt and tie is best for the men. And not your Christmas tie either, even if it is the Christmas season!
There are people who think it's quite ok to inject their own brand of humor into any situation at any time. This is not one of those times. Save your flashing Santa tie for next year's Christmas Party, if you get hired!
Shower, and don't forget your deoderent, but don't use heavy colognes or perfumes. This can be annoying to interviewers if too strong.
Don't forget to brush your teeth and use mouthwash. No gum.
Men should shave early in the morning to avoid the problem bleeds. For men with facial hair, make sure it is well trimmed.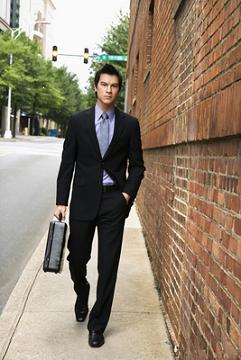 Arrival At The Business
Upon arrival, be aware of your actions while you wait. Job-interview-jitters are one thing. Saying something you shouldn't in front of other staff is quite another, and you can be sure it will be repeated.
Other employees will take notice of you at this point.
It is not uncommon for an employer to ask for their general impression of you as well. In a smaller office, it isn't uncommon for the boss to take these opinions to heart. Afterall, he wants an employee who will blend in well with the rest of his staff.
A negative comment or two back to the boss can decide your fate just like that!
Also, at this point ask if you can leave your cell-phone with the reception staff. Don't take it in with you.
Remember that you don't really know who is interviewing you until you are in the room with them.
It's always a plus to have an "in" whenever you can.
You may know that the boss happens to be your next-door neighbor, or "her" child is great friends with your child at school. It's great to have some confidence that there is a commonality there that might help to swing things your way. And of course, this kind of thing happens alot.
But, you may find, that the boss and his or her partners are interviewing; the panel may consist of the employer plus Board members. Their opinions will carry weight, otherwise they wouldn't be involved in the process. You may be surprised to find out that "who you know" isn't conducting the interview at all. A Human Resources team may be strictly responsible for the hiring process. The employer has chosen to rely on their recommendations alone.
The message here is to never assume anything.


Body Language And Mannerisms Can indicate
Job-Interview-Jitters and Disinterest
Look enthused; demonstrate an air of self-confidence
Smile
Make and maintain eye contact
Speak clearly
Do not chew gum
Do not tap your foot or play with your hair (this is a clear sign of your job-interview-jitters!)
Don't yawn continuously
Do not lean across the table, or rest your chin in your hands
Sit up straight, hands folded on your lap
Do your best to hide your job-interview-jitters, and remain professional and courteous at all times.



Listen Closely To What Is Being Asked And Respond Accordingly
If asked to share a little bit of information about yourself, limit it to some points of interests like a few hobbies, a little bit of family life; keep it brief.
This is not an opportunity for your life-story, or drama.
Don't talk about the job-interview-jitters you are feeling. Do not air your emotions regarding bitterness over a layoff, or your frustrations with job-searching. It may be tempting; you may think it is a good idea to appeal to the sympathies of the recruiter, but it isn't. Restrain yourself. "Don't go there."
Ask a question or two when the opportunity presents itself.
If you didn't prepare anything in advance, during the progress of the interview is the best time to make mental notes to zero in on something the interviewer said, and ask about it further.
As previously mentioned, asking a question indicates "your" interest.


Know When To Leave
Usually the interviewer will conclude by standing and/or expressing thanks to you for coming in. This is your cue to respond with a "thank you" in return. You may ask for a company business card before you leave.
Don't hang around; don't make it a long goodbye. Usually, interviewers compare notes a little bit before the next interview. And, interviews could be running all day and on a very tight schedule. Respect that.


When you get home, you can promptly send off a brief interview thank you note to the employer. An email is acceptable. If you forgot to mention something during the interview process that you feel is important, you could mention it here.
This also serves as another reminder of your application, and the fact that you were courteous enough to send a thank you, when quite possibly no-one else did.
Again, be brief.


So many of the points and steps listed here may have seemed silly to mention.
What may seem common-sense and obvious to you or me though, is amazingly not obvious at all to a good number of people out there, and especially if this is their first job interview.
These points are not meant to frighten or terrify someone from having to go through the interview-process. Having been part of an interview team myself, it is meant to help you. It is meant to relieve your job-interview-jitters with as much advance planning as possible in order to make the interview itself as seamless and relaxed as it can and should be.
Leave Job-Interview-Jitters
Return To Green Collar Worker

Return To Carbon Footprint Defined Home Page