Leftover-Turkey-Recipes,Turkey Stroganoff,Turkey Casserole
Quick easy meals using leftover-turkey-recipes are the best. Better the second day anyway, turkey-leftovers served a variety of ways prevents waste, and saves YOU time.
I don't know about you, but I love turkey dinner.
It has to be one of my favorite meals there is, and I'm talking mainly about turkey dinner with all of the trimmings like we have at Thanksgiving and Christmas as a rule.
I may curse a little, especially when preparing it all, because to put on this dinner can take alot of work and makes lots of mess. But the end result is totally worth it. And, turkey goes a long way for leftover-turkey-recipes.
I could eat turkey everyday I think.
When some people have had their fill of it one day only, I'm only too happy to have the same dinner over again the next day, preceded by turkey sandwiches during the day too.
My husband isn't that way. The next day he likes to make turkey a la king. I worry that he's going to take too much of the bird away, but there are lots of turkey-leftovers to easily make this turkey-recipe. It's simple, fast, and pretty tasty. If you have lots of turkey, these are 2 simple leftover-turkey-recipes to make use of.

TURKEY A-LA-KING 1
1 tsp. cooking oil for browning
1/2 green pepper chopped
1 small onion chopped
1 can mushroom soup
1/2 cup milk
1 pkg. fresh mushrooms
2 cups turkey cut up
salt & pepper to taste

Brown green pepper, onions and mushrooms on medium heat for 3 minutes or until tender.

Add remaining ingredients, simmer for 30 minutes.

You may want to switch to a pot, if your frying pan isn't deep enough. Serve on toast.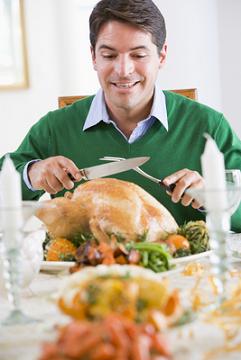 TURKEY A LA KING 2
2 tblsp. butter
1 chopped onion
1/3 cup chopped celery
1/3 cup finely chopped carrots
pinch salt
pinch pepper
pinch thyme
1/4 cup all purpose flour
1 cup milk
1 1/2 cups turkey stock
2 cups chopped cooked turkey
1 cup green peas

6 - 8 slices any variety of toasted bread

Over medium heat, melt the butter and add vegetables, seasonings. Simmer until tender. Add flour and stir well. Whisk in liquids and stir well until mixture thickens. Add in turkey and peas, and let simmer for about 3 or 4 minutes. Serve on toast, or ladle into small bowls.


TURKEY-POT-PIE
One of the best leftover-turkey-recipes!
1 medium onion sliced
1 cup chopped carrots
1 cup chopped celery
1 cup chopped mushrooms
1 clove diced garlic
pinch salt and pepper
1/3 cup white flour
5 cups turkey stock
1 cup frozen or drained can of peas

4 cups chopped cooked turkey
1 single pastry crust (store-bought or homemade)

In a dutch oven, add 1 tblsp. of vegetable oil, and add in all the above ingredients except the turkey, peas and stock.
Let cook slowly over medium heat; be sure to stir occasionally.
At 7 or 8 minutes, slowly add in stock. Bring to a boil. Reduce heat, and let simmer 10 minutes.
Add peas and turkey, and combine well. Pour into a large baking or casserole dish. Place the single pastry crust over top, and leave overhang. Pinch underneath the dish rim.
Brush with a bit of water; make some vents with a fork.
Bake 15 minutes at 400 degrees F. Reduce heat to 350 degrees F. for 30 minutes, until pastry is golden, and filling is bubbling.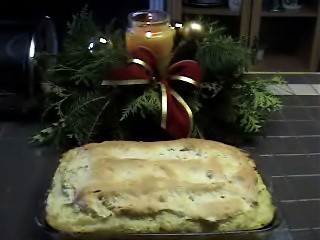 One of my favorite leftover-turkey-recipes is a simple casserole. Very filling, very yummy. It's just a matter of layering whatever leftovers you've got.
To be honest, my husband doesn't love this, but I think it's because it isn't sopping and soaked in gravy. Now that's how he likes his leftover-turkey-recipes made, but the nice thing about this, is that it "holds well"....a nice perfect little square and not a big mess. And it's got just enough of everything to be delicious.
TURKEY LAYERED CASSEROLE
13 x 9 baking dish

Bisquick

turnip, carrots, squash "whatever you have"

Gravy

Mashed potatoes

White and dark turkey slices

Method
Spread a little gravy in the bottom of your dish. Add slices of turkey to cover.

Next, layer vegetables. Add a bit more gravey and turkey.

Finish up with mashed potatoes. Add a bit of salt & pepper, and drizzle some gravy if you like.

Mix up two cups bisquick as per instructions on the box. Spread over top of mashed potatoes like icing on a cake; not too thick.

Place on a cookie sheet to catch drips, and bake at 350 degrees F., until bisquick mixture turns golden, and filling is bubbling.

A little cranberry sauce on the side is nice with this. Refrigerate with saran over top. Reheat in oven with foil over top, or zap a piece in the microwave.


TURKEY STROGANOFF
1 tsp. vegetable oil
1 chopped onion
1 diced red or green pepper
1/4 lb. sliced mushrooms
4 cups cooked turkey, bite-sized pieces
1/2 cup chicken broth
3/4 cup low fat sour cream
Cooked egg noodles

Heat the vegetable oil in a deep pan on medium heat. Add onion and peppers; saute 5 minutes. Add in the mushrooms and turkey; saute 5 more minutes, stirring often.
Add in broth, some salt and pepper to taste. Continue to let boil uncovered, and keep stirring until the liquid has reduced to 1/4 cup. Remove from heat, and stir in the sour cream.
Serve over a bed of cooked wide egg noodles.


SUPREME TURKEY POT PIE
2 carrots sliced 1/2 inch thick
1 cup celery chopped
2 large potatoes peeled and diced
2 small onions, diced
2 tblsp. butter
2 cups diced cooked turkey
2 cups supreme sauce - See recipe below
salt and pepper to taste
dash paprika, dash nutmeg

1 layer flaky pastry crust

Preheat oven to 350 degrees (180C)
Pre-cook potatoes, celery and carrots in boiling water. Drain well, and set aside.

Heat butter in pan over medium heat. Add onions, and let cook for a few minutes. Add in turkey and vegetables. Season, and simmer for a minute.
Add in the "supreme sauce" and transfer these ingredients to a baking dish. Cover top with pastry crust, and make sure there is a vent in in the top. Brush with milk. Bake 15 - 20 minutes and serve.
Buttery Supreme Sauce - Leftover-turkey-recipes
3 tblsp. butter
3 tblsp. flour 2 1/2 cups chicken stock
1 tsp. parsley and ground pepper

Heat butter in a pan over medium heat. Gently add flour and cook for one minute. Whisk in the chicken stock and parsley. Cook 10 minutes stirring occasionally.
Typically used in stews, poultry meat-pies, and as the liquid in leftover-turkey-recipes.



Leave Leftover-Turkey-Recipes
Return To Eco-Friendly Thanksgiving

Return To Carbon-Footprint Home Page