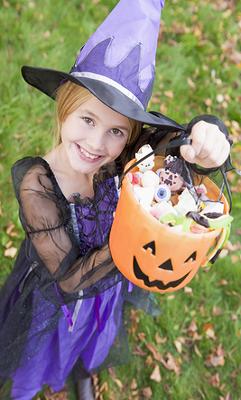 Non-Candy-Halloween-Treats
As Acceptable Alternatives
Handing out non-candy-halloween-treats and the non-traditional-candy really is a scary concept for some people. Convinced that "the fun will be taken out of halloween for the kids" just goes to show that it's hard to break old habits and traditions.



I had this statement quoted to me recently by a family member, and I don't think there will be any budging on this, but who knows? Maybe someday.



Truth is, there are alot of things you could hand out and the younger children, especially the ones who are just starting to go trick-or-treating who would think a small toy-like item is just great. It would be just like getting a bagful of presents to them.


It is important to establish this concept to some degree with the younger ones. When you think in terms of tooth decay, obesity and of course reducing our carbon footprint, it's all important. Why not give something that is good for them, or at least something that can be used for a reasonable amount of time, instead of winding up as trash literally overnight?
Yes, I know...I was a kid once too, and would I seriously be happy with a bagful of "just healthy" things? Probably not, but you don't miss what you don't know either.


Actually, little kids do love to get certain non-candy-halloween-treats. Some of the more popular items are crayons (soy or beeswax of course), eco-friendly pencils, notepads, stickers, tattoo-stickers, and totes and bags they can put all of their "stuff" in. Dentists like to hand out dental supplies with a "good" treat or two, and that's a great idea.
In addition to these non-traditional-candy items, there are organic and eco-friendly-candies available as well.


Healthy Halloween Goodies
Organic chocolates
Fruity organic cookies
Natural chewing gums in assorted flavors
Organic fruit leather
These items contain only natural sugars, no artificial colors, flavors, or preservatives.


More ideas include organic applesauce, snack-pack fruits and puddings, granola bars, juice boxes, cereal bars, raisins, animal crackers and cheese strings.
Many of these items are so much healthier. Look for them in health food stores, supermarkets and in the organic section in the grocery stores.
Good choices overall for non-candy-halloween-treats and healthy edible treats!



Homemade Treats
There are people who still make their own homemade treats to hand out.
I honestly am not sure how well this goes over anymore, unless of course you personally know where it comes from.
I always thought that it was such a shame and too bad that the sick people out there who put razor blades in apples and things like that, have totally ruined the ability of good-natured and well-meaning people to hand out their home-baking.
If it's not pre-packaged by a company, it must not be safe, not worth taking a chance, and therefore home-baking is immediately thrown away without any hesitation. I know many people who do that. When you don't know where it came from, it's the best thing I guess.
I do remember the days when as a trick-or-treater, we could hardly wait to get to certain homes, because those ladies made the best fudge, the best ribbon candy, the best popcorn balls, and the best cookies and rice krispie squares. These treats were better than any chocolate bar, and we ate all of it before we even got home. It wouldn't have ocurred to my mother to throw any of these things away.
But, it was a small community; everyone knew each-other. I don't recall ever checking things over before we were allowed to touch anything.



If you do continue to hand out baking, at least label what it is, and give your name and number.


Times have changed, and for any really close-knit people in close-knit communities who can still do this, I can only say you are very lucky.

It must be comforting to know that your child is really safe out there, and not just because they did or didn't get non-candy-halloween-treats.
So, what will you be handing out this year?


Leave Non-Candy-Halloween-Treats , Return To Halloween Carbon Footprint


Return To Carbon Footprint Defined Home Page