Organic-Dishwashing-Liquid
Gentle Softening For Your Hands
An organic-dishwashing-liquid is much gentler natural-soap for your skin rather than the standard household toxic cleaners we use everyday without thinking.


The amount of skin-irritants that our porous skin soaks up in a day is amazing. This leads to a number of itchy rashes and allergic reactions for many people and calls are made to poison control centers frequently over toxic reactions.
Chemicals in the home cause this kind of skin reaction or at least mild forms of it all the time.


Organic pesticides and and organic insecticides are replacing harsh chemicals in the garden. Why not find a modern-organic-product for hands when washing your dishes?



You have to learn to become familiarized with modern organic products and their ingredients and their labels these days to be sure of what you are buying.
Cleaners that aren't organic contain irritating substances like formaldehyde, silicone, synthetic fragrances, and sudsy foam-builders.
These types of products need to be avoided. Products that don't contain chemicals or preservatives are what is best.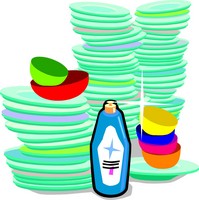 Of course, anything labelled with a danger warning, or a long list of symptoms to watch out for, should be the first clue that it's not good for your health, let alone your skin.


Remember also, that your dirty dishwater has to go somewhere when you are finished with it, and no matter where it goes, it is never completely recycled. This water will make contact in one way or another with fish, animals and soil.
Avoid products containing "sodium lauryl sulfate."
This chemical is used in cleaning products to clean up oily stains. It is used in high doses in industrial cleaners, but is also used in shampoos, and bubble bath liquids and other cleaning soaps as well. It has the ability to create a wonderful lather.
It also has the ability to cause dryness, redness, and even worsen existing skin conditions that some people suffer. In fact, there is a concern about the amount of SLS that is found in shampoo. It also builds up in your organs after prolonged use.
The important thing to note, is that this is not needed to wash a dish and get it clean.


Organic-dishwashing-liquid may contain olive-oil, which is a plant-based ingredient and that is what we need to look for when purchasing.
Coconut-oil is an acceptable ingredient as well.
Try your local health-food store for organic-dishwashing-liquid if you can't find it in your regular grocery store.
Leave Organic-Dishwashing-Liquid
Return to Homemade Cleaning Supplies

Return To Carbon Footprint Defined Home Page