The Organic-Wedding-Dress For
A Green Living Bride
Makes Ethical Sense
Choosing an organic-wedding-dress using organic-cotton-fabric and other sustainable fabrics is the greener alternative for eco-friendly wedding gowns.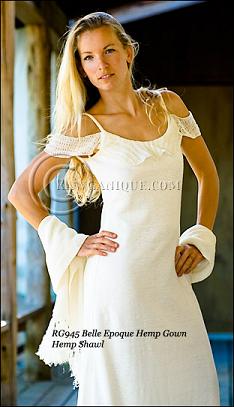 Rawganique.com
Copyright 2001-2010
1.877.729.4367.


What Is An
Eco-Friendly Wedding Dress?
If you are committed to green-living, the organic fabric or organic wedding dress may appeal to you in a very meaningful way, being made with sustainable fabrics that are biodegradable, and made through Fair Trade practices.
First of all, organic-cotton-fabric is actually quite in style and it breathes remarkably well. It's light-weight and very comfortable.

Satin-like, shiny hemp-silk blends of material are made from organic or natural fibers. They are not dyed with chemicals, but naturally dyed with vegetable colorings instead.


Bamboo is actually sustainable and like the hemp-silk, is soft and smooth.
Hemp-silk and and natural chiffon can be used for all wedding attire.
Silk chiffon, made from natural fiber has a rather slippery feel to it, and is admired for the texture and the shimmer quality to it. It's quite strong, very "flowy" and lovely.
Garments made with organic fabrics as opposed to polyester petroleum based products, are made without herbicides or pesticides, are eco-friendly, and can be certified organic material.



The eco-friendly and fair-trade practice means they have been made according to concerns for the resources required to make the outfit, and concerns for the human aspect as well.
Consumers more and more want nothing to do with manufacturers involved in child labor and sweatshop conditions, unsafe working conditions, and unfair wages paid to workers.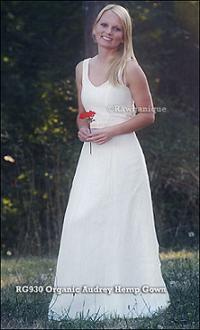 Rawganique.com
Copyright 2001-2010
1.877.729.4367.

Natural fiber just makes sense when one feels so committed to protecting the earth.
Organic wedding dresses are quite lovely and environmentally responsible choices when deciding on your wedding apparel.
And please don't forget, the men need wedding attire as well.
You can find outfits in these materials as well for the groom and other male members of your wedding party.



For a listing of some world-wide links for organic-wedding-dresses and other services, visit The Natural Wedding Company UK .



Leave Organic-Wedding-Dresses
Return to Wedding Carbon Footprint

Return To Carbon Footprint Defined Home Page