Potato-Salad-Recipes
Variety of Potato Dishes
How to make white potato-salad-recipes, or red-potato-salad dishes quickly and easily by changing ingredients creates a variety of tasty but different choices, depending upon your tastes.


Whether it's cooking for a crowd, a family, or just two people, it's not much of a different way of doing things to make a potato salad.
I especially like to whip one up when I see the fresh vegetables are getting down. A few large potatoes goes a long way, and with the addition of a few eggs, a few radishes and just one stalk of celery plus a few other spice ingredients in a very small quantity, it's all you need for just two people.
So, don't head for the composter just yet. Use up those few leftover items. Believe me, you have enough even if it seems there are very little.



I don't know that I believe in the "best" potato-salad-recipes.
To me, they are all good. I also have yet to see a specifically labelled type of potato-salad-recipe all contain the identical ingredients in any given version. Everyone has a different idea it seems to suit their own tastes.
You will frequently find that one persons' version of a german potato salad recipe is very similar or very different from another recipe belonging to someone else. A red potato recipe works much the same.
Some people like a spicy bite to their salad, some don't. Some like meat, like a spicy type of sausage in their german potato salad, some don't.
I've had people ask me why there is bacon in my plain basic potato salad recipe. Well, I've always liked it that way, and I thought that was pretty common.
There are hot potato salads, and recipes for creamy potato salads.
I've come to the conclusion, a potato salad recipe can be whatever you want it to be, and one isn't any better than the other. It's about the individual taste of whomever is eating it.
If you've got potatoes, it's potato salad period.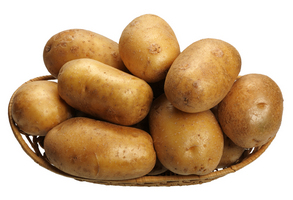 Jane's Basic Simple White Potato-Salad-Recipe
7 or 8 large white potatoes, boiled with skins on
6 eggs hard-boiled
1 small package of radishes washed and minced
5 or 6 green onions chopped
1/2 green or red bell pepper chopped
3 long stalks celery chopped
Very crisp pieces of bacon broken up

Set aside your potatos and eggs to cool.

Sometimes I leave the skins on, usually for the white garden potatos, but sometimes I don't. Your choice.
Chop and put into a large mixing bowl. You can leave one egg aside, for garnish later if you like.
Add the rest of the ingredients, and season as per your taste, with salt and pepper, and a pinch of garlic.
Like Spiced up? Add in just a small sprinkle of Montreal Steak Spice.
Add spoonfuls of mayonnaise or miracle whip and mix until well coated. Garnish with a sprinkle of paprika, and egg slices. Refrigerate.


German-Potato-Salad
8 potatoes boiled, skins on
3 hard boiled eggs
1 cup chopped onion
2 dill pickles chopped
1/2 cup mayonnaise
1/2 cup sour cream
Salt, pepper, and 1 tsp. garlic powder

Combine and chill or serve warm.



German Potato Salad
8 red potatos boiled, skins on
2 thinly sliced onions
Crisp strips of bacon

Chop potatoes, and add onion and crumbled bacon pieces.
Mix 1/3 cup of cider vinegar, with 1/3 cup water and 2 tablespoons of sugar. Pour over potato mixture.

Add chopped parsley (handful), 1 tsp. dry mustard, and
salt and pepper to taste. Chill.

For a variation on the german potato salad recipes, you can add in broccoli pieces, kielbosa or polish sausage chunks, heated.
For extra bite, you can also add in a tablespoon of steak sauce, or tablespoon of saurkraut or regular mustard.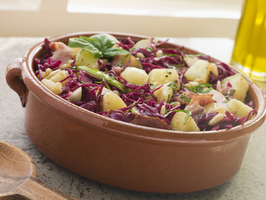 Red Potato-Salad-Recipes Skins Left On

8 red medium potatoes cooked and cooled
1 cup chopped green pepper
3/4 cup chopped red onion

Combine the above ingredients in a large bowl.

Whisk the following:

1/2 cup olive oil
1/3 cup red wine vinegar
2 large spoonfuls of mayonnaise
pinch each of salt and pepper

Pour over potato mixture, and gently toss.
Refrigerate.

Red Potato Salad Recipe

8 medium red potatos boiled, cooled and chopped
4 boiled eggs chopped
2 stalks celery finely chopped

Whisk together:
1/2 cup mayo
2 tsp. dijon mustard
salt, pepper, pinch garlic powder to taste

Pour over potato mixture, gently toss and chill.



Any of these potato-salad-recipes can easily be "a little bit more" or "a little bit less," of potato, egg, or spices. Again, it's all to your specific tastes.
My husband tends to cook a lot of bacon at once, and it's always good wrapped up for salads when not eaten immediately.
My mother likes to cook a lot at once very crisp, crumble it, and store it in the freezer for future use, especially for salads.
A very good idea, and definitely a time-saver!
I hope you enjoy this tiny sampling of the wonderful potato-salad-recipes there are available. There's really no end to them.



Leave Potato-Salad-Recipes
Return To Kitchen Carbon Footprint

Return To Carbon Footprint Defined Homepage