Pumpkin-Puree-Uses, Pumpkin Recipes, Pumpkin Candles
Pumpkin-puree-uses for cooking, baking, and to soothe the skin, even includes a pumpkin-facial-mask for dry skin.
When Halloween approaches, one of the number one wasted items at that time of year, are pumpkins. They are hollowed out to make jack-o-lanterns, and the scraped out pumpkin flesh is tossed.
After Halloween is over, the shells are frequently smashed and strewn everywhere as well. The smaller pie-pumpkins used mostly for decoration on tables and outdoors in baskets as "gourds" are thrown away to the composter.
We know we can make delicious snacks out of the seeds, but what about the rest of the pumpkin?



Pumpkin recipes are the first obvious thing to make with your scraped out pulp. Don't throw it out, use it up year-round.
For pumpkin-recipes for pumpkin pies calling for canned pumpkin, just use your pumpkin puree.
Pumpkin can be put into freezer bags, sealed and kept up to a year.


Pumpkin Puree Cooked
Rinse pumpkin well to remove dust or dirt (up to 5 pounds)
Cut pumpkin in half; scrape out seeds
Place cut sides down in baking dish in 2 inches of water
Cover with foil; Bake at 350 degrees F. until very tender.
Or microwave by same method covered with plastic wrap on high for 20 minutes.
Scoop puree. Freeze, or cover well and store up to 3 weeks in the refrigerator.


Pumpkin-Puree-Uses, Make Pumpkin Butter
Great on waffles, biscuits, muffins
1 one-pound pie pumpkin, peeled, cubed
1/2 cup water
1/3 cup sugar
1 tsp. cinnamon
pinch nutmeg, cloves
Bring the pumpkin chunks and water to a boil; simmer until broken down. Strain.
Add and combine the spices well. Microwave 20 minutes until thick.
Allow to cool, and place in sterile jars. Store in a dark dry place. Refrigerate up to 3 weeks.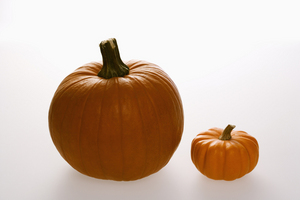 Pumpkin-puree-uses, Pumpkin Cookies
1 cup pureed pumpkin
1 egg
1/4 cup butter
1 box yellow cake mix
1 tblsp. pumpkin pie spice
Chocolate chips, oatmeal, dried fruits, chopped nuts optional
Mix puree, egg and butter in a bowl. Gently add in the cake mix, spice and optional items if desired.
Drop by small balls onto cookie sheet; Bake 350 F. 12 minutes
Easy Pumpkin Soup
2 cups cooked pumpkin puree
1/3 cup chopped onion
3 heaping spoons butter
1 tblsp. sugar
pinch pepper, salt, and nutmeg
3 cups chicken broth
1/2 cup of half & half cream
Brown butter and onions on low heat. Add in pumpkin, spices, and broth. Stir well as it heats. Pour into a large serving bowl or soup tureen and mix in the half & half cream. Serve.
In addition to pumpkin-puree-uses, an empty pumpkin shell can still be useful for a little while before or after Halloween is over.
You can use it as a vase to hold an autumn arrangement as a centerpiece at a dinner table.
The smaller decorative pumpkins (less likely that they have been carved up) are great hollowed out, and used like a gourd to hold vegetable dip for a party.



Pumpkin-Shell-Crafts
Pumpkin Candle
Cut the top off of a small pie pumpkin
Remove the seeds and the flesh
Thread a string for a wick up through the bottom with a needle
Seal the bottom with some clay to plug the hole
Fill with melted parrafin wax, let set
You can also cut out some tiny round holes to let light out and just place a large tea-light inside.
Pumpkin-Shell-Crafts, Pumpkin Bird Feeder
Cut a small pumpkin in half and scrape pulp. Freeze the pulp.
Scrape as much as possible, but be sure to leave a 2" thick wall.
Poke holes in the sides, and insert small branches to act as bird perches.
Knot 4 long pieces of heavy string, and make sure the knot is secured at the bottom underneath of the pumpkin. Make sure the knot is centered for balance.
Tie the tops of the lengths together and hang on a tree branch.
Fill with mixed bird seed or suet.
If hung in a sunny spot, the pumpkin will dry out and last longer.


Last but not least, take care of yourself.
Whip up a pumpkin mixture to nourish your skin with the rich Vitamin A, Vitamin C and Zinc found in pumpkins.
It's inexpensive and oh so natural.
Pumpkin-Facial-Mask For Dry Skin
2 tsp. pumpkin puree
1/2 tsp. honey
1/2 tsp. brown sugar
Spread on skin; let soak in 15 minutes.
Rinse with warm water.
Get the most from the varied pumpkin-puree-uses there are.


Leave Pumpkin-Puree-Uses
Return To Halloween Carbon Footprint

Return To Carbon-Footprint Home Page