Safe-Lunch-Bag
Lead-Free Lunch Pail
Check the label. Your safe-lunch-bag could be toxic and full of lead. Use a canvas-lunchbag instead.
I never thought that the lunch-bag for my daughters' school lunch was something I should have been really concerned about at one time.
Who really ever thinks about this?
I was more concerned with the contents of the bag, not the bag itself.

I was very fortunate when my daughter was growing up for a few things. She loved all of the foods that many kids typically hate. You know, the celery sticks, carrot sticks, yogurts, and fruits. All that healthy stuff!
She ate it quite willingly when I put it all together when she was just a very young age.
One of her teachers complimented me once during a parent-teacher interview by saying "you sure send the best lunches" and I felt really good about that.
I felt like such a good Mother because the teacher went on to tell me how upsetting it was to see kids get to school with nothing but a bag of chips or a hand-full of cookies for noon-time day after day after day.


When my daughter was old enough and able to, she insisted on making her own lunches, which I must say I didn't mind.
She painstakingly cut the vegetables herself every night or morning, and was fairly picky in what she took. The only complaint I ever had, was that those containers went out the door, but mysteriously didn't always make it back home for some reason. I re-bought those items many many times.
At any rate, looking back we weren't generating much garbage. At least I don't think we were.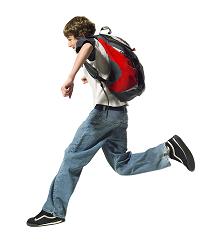 Did you know that each school-age child contributes almost 70 pounds of lunch garbage per year to the landfills? Thats alot of waste, or good compost.
But, it comes mostly from the excess packaging of food items and brown-bags. Not surprising.

And so, we did our bit as far as generating garbage goes.
The lunches were pretty good and nutritious, but now I shudder to think about what the containers were made of, and how all of that food was possibly stored in anything but a safe-lunch-bag or non-toxic-lunchbox.
Pretty ironic, isn't it?


There is in fact, such a thing as a safe-lunch-bag believe it or not.


As it turns out, lunchboxes themselves can be dangerous.
One finding reported more than 90 times the legal amounts of lead in the paint the lunch-pail was painted with.
Did you know that high levels of lead have been found in the vinyl lunchbox linings as well?
Who would have thought this possible, especially with the numerous lead findings and reports over the last years in regard to the toys kids play with?
High lead levels have been linked to many physical ailments.
If you are unsure in any way what the lead level is of a vinyl bag, you can test this by purchasing a hand-held kit that is available at most hardware stores.
It might be a good idea to avoid the vinyl altogether, as there could be even other chemicals present as well causing even more serious health risks.


Fortunately, there are some things you can do to "green" things up a bit to ensure that your child does indeed have a safe-lunch-bag, and reduce your carbon footprint at the same time.


Since plastics leak chemicals at the garbage dumps, try to avoid them whenever possible and try stainless-steel instead.
Stainless-steel is reusable for a very long time, it's quite strong and resistant to just about anything. It makes a great safe lining in a thermos, as opposed to chemicals leaking from plastics into drinks and foods.
You can get a variety of different sized containers to hold a variety of foods like salads, cookies, vegetables and other snacks.
Number Four plastics are safe to use and are used as liners that are rolled up and velcroed that will seal the wrapped food items. They can just be wiped clean after each use. Sounds like a great idea for a type of container.


To save on the excess packaging in the landfills, buy your food items in bulk in larger quantities. Send the single portions in the reusable containers.
A canvas-lunchbag or unbleached cotton bag is a great idea to carry all of these items in. They are good-sized, reusable, washable, and best of all, they are safe and will not contaminate food in any way.
Now you definitely have a safe-lunch-bag to send to school.


The good news in all of this, is that the manufacturers are working to reduce or eliminate altogether the lead in the lunchboxes they make, and the amount of toxic lunchboxes are decreasing.


The safe-lunch-bag is only as safe as what is inside. Follow some good tips.
Wash your hands well before making your lunch, and before you are about to eat it.
Wash fruits and vegetables before they are eaten.
Make sure your utensils are clean. Keep your cutting-board well sanitized.
If you make lunches in the evenings, make sure all of it is refrigerated until the next day.
Remember to keep hot foods hot, and cold foods cold. Bacteria grows more slowly on cold foods. Remember to put in a frozen ice-pack of some kind to keep things chilled and fresh. A frozen juice container is a good idea, which will be thawed by lunch-time.
Tell your child not to store their lunches near any heat sources at school like radiators, vents, or in any kind of direct sunlight.
More and more kids are liking a variety of healthy items like bagels, tortillas and pita-pockets stuffed with lean meat or vegetables. Whatever is perishable and not eaten at noon, should be tossed.



Leave Safe-Lunch-Bag
Return To Kitchen-Carbon-Footprint

Return To Carbon Footprint Defined Home Page