The Solar-Heated-Shower
Enjoy A Sun-Warmed Water Quick Dip
Refresh yourself in a solar-heated-shower. This eco-friendly-shower can operate from your backyard and save energy by using water heated freely from the power of the sun.
An outdoor-solar-shower, can be the next best thing to a dip in a pool on a hot day.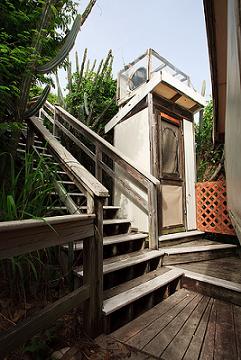 Using the sun to heat cold water from your garden hose, your solar-heated-shower can heat water to 50 degrees Celsius.
What you need, is a tank that can hold approximately twenty litres of water, and that is enough to supply 5 showers before it has to be filled again.
Situated securely on the roof of your shower this positioning will provide effective water pressure while bathing.
The tank can also be situated on the ground, and connected to a cold water feed from the bottom of the tank. The cold water will provide pressure to push the warm water out of the tank through a top hose.
Tip - Painting a tank black, will help absorb and hold the heat.
Coiled hose only can be used in place of a tank, but would serve the purpose of a good rinse, not a very long shower, as the hose would only hold so much water at a time.
Perfect for some people though, as the quick rinse is all they are really looking for to either cool off or get rid of excess sand or dirt from working outside.


If the sun is hot enough, you may be able to enjoy an eco-friendly shower in the backyard in as little as thirty minutes from the time it is set up.
Be sure your tank, or water hose or both has good exposure to the sun and isn't shielded from trees or other types of foliage. This will cause debris that will have to be cleaned up constantly and you don't want to have to worry about that.


The shower can be installed by anchoring it to the ground and connecting a hose-pipe. A footrinse and drainage grill of some sort would prevent the used water from stagnating and collecting in one spot. Hopefully by being outside though the outdoor air will be able to dry it up significantly.
To stand on, you can put down multishaped patio stones, or cement patio slabs.
Wood partitions surrounding the shower would be the finishing touch to surround this outdoor solar shower by providing you with privacy.


And if you have a pool? A quick rinse before you go in would work well making you cleaner and as a result, help keep your pool water much cleaner too.


A solar-heated-shower can provide a flow of 5 - 6 litres of water per minute.
What a great way to refresh with a backyard eco-friendly-shower with the free power of the sun in the fresh air.



Leave Solar-Heated-Shower
Return To Facts About Solar Energy

Return To Carbon Footprint Defined Home Page