Toxic-Garbage-Disposal
Poisonous Waste Removal
Have a toxic-garbage-disposal plan in place for dumping-dangerous-substances safely and responsibly.
The green garbage bag isn't the solution for those items that are so everyday, common, and yet environmentally unfriendly.
Studies show that most people put their questionable trash items in with regular allowable garbage or flush medicinal products down the toilet. They just aren't clear on what to do with these items.



In fact, these un-used prescription pills end up stored forever in the home and that isn't safe for people or the environment either. Regularly do a housecleaning on these.

When It Comes To Medications
We have all made the same mistake with type of hazardous-trash.
Concerning expired prescriptions and this includes pet prescriptions as well, they should never be flushed down the toilet or broken up and put down the kitchen sink.
These medications can and will show up in the water system, and they definately need their own toxic-garbage-disposal site.
Children can get pills out of the garbage. If they can get to the landfills, they can be consumed by animals and leak into the ground water system as well. Dumping-dangerous-substances like these require another solution.
Call your Pharmacy or Medical Clinic.
Most have disposal systems in place for medications, and needles and syringes. This may only be at certain times of the year, so call them first to find out their policies.
Ask your Doctor, the local Hospital, or closest Waste Facility for instructions.
Make sure your old medications are wrapped securely, labelled and sealed in some kind of a container before taking them to where they can be disposed of.


What To Do About Used Batteries
Not many people know what to do with batteries either, according to research results. They end up in with the regular garbage, and subsequently leak harmful-substances like acids which are dangerous if they don't corrode and explode first.
Take used batteries to an electronics or hazardous waste depot, or inquire at your Town Office what to do with them. Better yet, start buying rechargeable batteries to assist in cutting down the excess supply.
The same idea applies to hazardous-trash like light-bulbs, where the mercury can be extracted and properly disposed of.


Some Paints Can Be Recycled
Not all, but some paints can be made into entirely fresh products. Inquire at your local Paint Store.
Some paint manufacturers will take back old paint supplies as well.
If you have oil-based paint, car paint or any household paints that have been stored for years and years, inquire where they should go at your local landfill or waste depot.
Some latex paint cans can go in the same boxes as your recyclables, but you have to make sure first. These old old paints will be likely candidates for a toxic-garbage-disposal site.
Otherwise, if you have reasonably new leftover paint from a project and can't use it anymore, consider donating it to a community project which might be going on, or give it to a school or home improvement program in your town. You could trade it possibly for a color you need if such a program exists at your waste facility.


Outdated Electronics and Appliances
If there was ever a use for a toxic-garbage-disposal program, these items are a good reason.
So many different types of non-biodegradable materials like lead, cadmium, and arsenic to name a few, are found in so many very old devices.
As people replace old computers and appliances, they are at a loss as to what to do with them.
Computer towers are a huge problem. Computers contain information, and most people just will not throw them out, and choose to store them forever instead because they are not technical enough to know how to erase the information contained on them.
Invest in some technical advice and find out how to do this yourself or simply pay for the service. It's really the only way to deal with this, if you are uncomfortable with not doing anything at all.
Donate your computer and software to a non-profit organization that will do what they can with it, and see if they can give it someone who could use it, but can't afford the cost themselves.
Charities and Local Community Groups may be very happy to find a use for any of your no longer needed appliances. Or, simply donate the items to groups who hold garage sales or fund-raisers to raise the dollars they need for their own particular causes.


Before you take it to a landfill, ask around!
You just might make someone else's day with an item they need, but can't afford. Or, you just may have the still-working part that someone needs desperately, but can't find anywhere.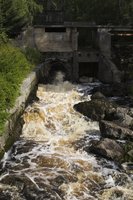 Don't turn clean water into toxic water.
For any other products you aren't sure of, note the label markings as to whether or not they are flammable, or poisonous.
Make a note of whatever you can find out, and and call your local landfill authorities for specific toxic-garbage-disposal instructions for that item.



Leave Toxic-Garbage-Disposal
Return To Recycling Tips

Return To Carbon-Footprint Defined Home Page