Lift-Clothesline-Bans Everywhere
Outdoor Laundry Drying Laws
Lift-clothesline-bans for the sake of common-sense. The right to dry laundry outdoors is such an obvious way to cut carbon footprints.
For the life of me, I will never understand how clothes drying rights in the great outdoors can be taken away in any city, in any town, in any backyard.
Did you know that "clotheslines" used to be a symbol of "class" and were thought to be mainly associated with high crime areas. Certainly we're way beyond that mode of thinking.


I know where the rule comes from and why.
It comes mostly from Developers through their sales agreements and Homeowners Associations. I know in Ontario a few years ago the Government stopped allowing this, but I'm not exactly sure where it still goes on now.
Clotheslines lower property values they say. The neighborhood doesn't look very nice.
I'm not sure what the reasons are in their entirety. I do know the main reason is because a clothesline full of laundry is deemed not attractive, not exactly pleasing to the eye.
Now if we are talking about a line full of my husbands work t-shirts that he refuses to part with, I get it. They aren't pretty. When I get the chance, I sneak those to the rag-bag and pretend they just finally disintegrated in the wash. He'll never know.
But seriously folks,.....
Is it the hardware?
Is it because of what is specifically hanging on the line?
If there was a load of brand new beautiful towels hung out to dry, as opposed to items from the rag-bag we dusted with, would the towels be acceptable? Could we lift-clothesline-bans if we promised our laundry will be pretty?



Items we need to wash get washed on laundry day period, rag-bag or otherwise.
Is it the "unmentionables" people don't want to see?
If you have an umbrella clothesline, these items can be discreetly placed in between towels or sheets or other items so that they are very difficult to see.
You can also use a wooden or plastic clothes-rack to dry them on, somewhere close to your house, or on your deck, or even on a balcony. They are sold in most department stores and are fairly cheap and set up immediately.



Hasn't the right to dry laundry outdoors been happening since the Dark Ages?
It's just such a god-given right as far as I'm concerned. I wouldn't be without some type of a clothesline.
How do you beat the feeling of crawling into bed at night in sheets and pillowcases and yes, comforters too, that have been dried in the fresh air? You can't.
Blouses and nightgowns are my favorites to put on fresh off the clothesline.
Besides the fact that continued dryer use can actually harm your washables, there are so many other benefits.
- It saves electricity
- saves money
- less wrinkling

People want to lift-clothesline-bans and enjoy these clothes drying rights too.
And, zero greenhouse emissions!! What about that?
In this day and age of fighting climate change, reducing carbon footprints and improving energy conservation by cutting down hydro bills, how can one be forced to use the dryer all for the sake of a good-looking subdivision?


Bottom Line?
Laundry is something we all have. We all wear clothes, we all use towels, we all sleep in sheets, and most of us dust our furniture. The list is endless. This is not something unique or abnormal that the neighbors or anyone else wouldn't understand.
To lift-clothesline-bans just gives people back the right to do something that shouldn't have been taken away in the first place.
Some people need to come down to earth in a big way on this subject, and if they don't want to, then they can gladly take over my hydro bill.
I love my my clothesline. What do you think?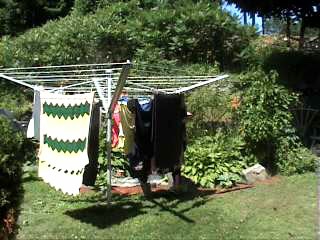 How Do You Feel About This Topic?
Is Your Clothesline Banned
Where You Live?
Are you trying to do something about this,
or do you agree with the rules?
What Other Visitors Have Said
Click below to see contributions from other visitors to this page...

No Dryer For Over 2 Years.
No clothes line either. Yes, I do wash my clothes. I dry everything on a clothes drying rack . I find this is the most efficient way for my family …
Leave Lift-Clothesline-Bans
Return To Conserve Water Wisely

Return To Carbon Footprint Defined Home Page