Green-Wedding-Reception
Organic Wedding Reception Ideas
Organize your green-wedding-reception using knowledgeable and skilled experts in the field of eco-friendly-wedding-reception planning.
If you are expecting a huge crowd, pressed for time, determined to have every detail geared to the practice of green-living, a green-wedding-planner may be the way to go.



They are out there you know, and more than you think.
As more couples are looking for ways to cut down on their own carbon footprints, they are actively seeking out the services of green-wedding-planners, and vendors. And the planners know "where things are" and how to get them, if you don't.
This is also a good idea if you are not really knowledgeable yourself in the ways of green-living, but know you should start somewhere. Again, these are the people to call to help you get started and advise you of the choices that are available to you when planning an eco-friendly wedding celebration.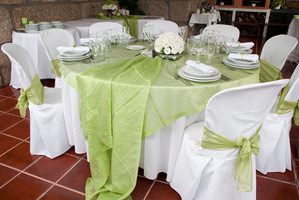 And in order to make your green-wedding-reception as green as you would like it to be, because there are different levels, they would take into consideration everything having to do with wedding reception supplies for your big day.
An eco-friendly-wedding-reception does have some distinct characteristics.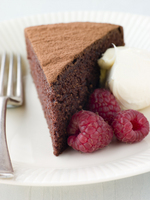 Green-Wedding-Reception Characteristics
A more formal green-wedding-reception would concentrate on using farm fresh organic goods and ingredients as much as possible, while supporting local farmers, suppliers and businesses.
This would eliminate the need for trucking in and not involve high transportation costs. The wedding planner would also likely prefer to work with businesses that are heavily involved in the composting process.
Organic linens and not disposable products, would be used on your tables, and there would be a very minimal amount of paper products used in regard to decorations. Centerpieces can be made of recycled products, or even tiny arrangements of simple flowers can be used.
Soy candles can add very nicely for a nice glowing effect.
Of course, your menu could be all vegetarian, and totally meatless if you like. Be sure to ask to see what is on an all-organic menu.
Serving a light variety of finger-foods, fruits, and other organic-type goodies could be quite sufficient if your green-wedding-reception is not an all-day affair. Some aren't. Otherwise, consider what time of the day your event is and for how long. You have to feed your hungry guests.
Cakes and confections would be organic. Chocolate desserts and even wedding favors from chocolate would use organically grown ingredients from fair trade cacao beans, and likewise for beverages like chocolate drinks, coffees and teas.
They can even be put into specially seeded paper for guests to take home and plant instead of throwing them in the garbage. Such a great idea.


If not in the form of edible foods such as sweet organic treats, green wedding favors would be made up with a type of a nature theme attached to them, such as small seedlings for example.
This would be so appropriate and suitable if your wedding was small and in a natural-type setting for a venue.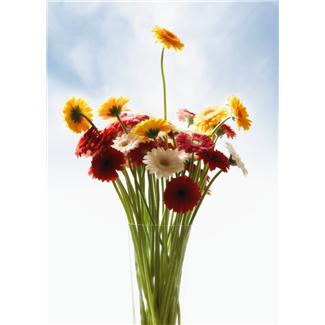 Your flowers, decorative flowers and centerpieces would reflect a nature theme as well, using local organic florists, but probably kept to a bare minimum. Flowers native to your region is the best to use.
Many florists will supply vases and other decorative pieces of that nature, but are to be returned to these vendors to be used again. That's a good point to know.
Another item about flowers? If you have flowers at the church, get them to your reception hall as soon as possible to serve as the decorations there as well. Don't leave them behind to get later, or give them away just yet. Stretch out their usability.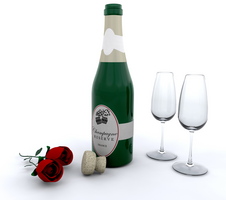 Eco-Friendly Drinks
The bar is usually quite forgotten about in terms of reducing carbon-footprints. There are not alot of certified organic spirits available at the moment, but there are some.
You can though make sure to provide fresh, freshly juiced (no cartons) and in-season real juices as great mixers for cocktails and drinks for kids.
Be sure to ask at your local liquor store or wine store about what is available and popular. If you don't know, they certainly will.



A green-wedding-reception is no small thing to prepare and plan for if you are expecting a large guest-list.
If you have no idea where to begin or have any idea where to find what you need to pull it off, do consult a green-wedding-planner if you think you need to.
They do advocate simplicity and small numbers, and if that is the case, with help from friends and family it may be quite possible to delegate and provide a wonderful eco-friendly-wedding-reception yourself.
Remember, it doesn't have to be entirely "green", but as many as possible details covered is nice and makes a difference.
Do remember to display your recycling concerns quite prominently so that your guests can't miss it.
Either make sure of this yourself, or instruct catering and clean-up crews that this is indeed a huge concern, and you expect full co-operation.
Finally, make sure to donate any leftover food supplies to a Food Bank or Shelter if possible. They would so appreciate it.



Leave Green-Wedding-Reception
Return To Wedding Carbon Footprint

Return To Carbon-Footprint Defined Home Page